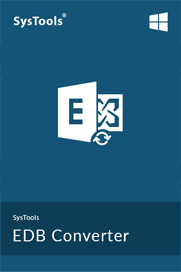 SysTools EDB to PST Converter Software
Converts Exchange EDB files (Online/Offline) to PST files
SysTools EDB to PST Software collects data from corrupt or healthy Exchange database file and converts it to PST and more other formats. It converts entire mailboxes and public folder items emails, contacts, calendar, appointments.
Extracts corrupt, missing EDB data for conversion
Converts Offline EDB Files to Outlook PST format
Converts Live Exchange EDB data to PST file
Converts multiple EDB mailboxes, archived mailboxes and public folders
Preview EDB mailboxes content prior to conversion
Moves EDB data to PST, EML, RTF, MSG, HTML formats
Supports UNICODE formats for PST files
Exports Exchange EDB file data to Office 365/Live Exchange.
Filters data on date range and email addresses criteria
Supports all Outlook versions for converted PST files
Works well with all Exchange Server versions (even latest 2016, 2019 and Office 365 versions)
Key Features
Converts Corrupt/Healthy EDB Files to PST
Exchange database file, EDB whether corrupted or healthy can be easily converted to PST format with SysTools EDB to PST Converter. Any sort of EDB corruptions due to any reason can be repaired first and then healthy data from it is readily advanced for the conversion process.
Converts Offline EDB Files to PST
One can convert Offline EDB files from the dismounted Exchange Server to the Outlook PST format with by EDB to PST Converter software. The EDB files are thoroughly scanned for preparing the data for further efficient conversion to PST.
Converts Hosted Exchange EDB to PST
If your Exchange is Live or Online, then also you can move the EDB file data to PST file of Outlook. This conversion option supports both single and multiple mailboxes for the conversion procedure. Users can select the desired file items from scanned data for converting to PST.
Converts Archive Mailboxes to PST
Apart from the regular user mailboxes for conversion, you can also convert the Exchange archived mailboxes data to PST and other destinations as per your need. Every function is same as for user mailboxes for performing the smooth conversion.
Large EDB Conversion to PST
Most Exchange EDB files are quite large in size as whole organization is connected but it is not an issue for this powerful software. It handles large-sized EDB files with full consideration and retrieves all data without a single item being missed.
Preview Generation for Selected Content
The advanced tool generates full content preview on right panel for the selected folder item available on the left panel. The content information on the preview before conversion is crucial for user to decide if he wants to save it or not.
Exports Offline EDB to Live Exchange
SysTools EDB to PST Converter tool readily moves Offline Exchange EDB mailbox to single or multiple mailboxes of Live Exchange. The basic credentials of Live Exchange like server name, administrator name and password, etc. are needed o establish connection and perform the export.
Move EDB Mailboxes/Public Folders to Office 365
It is another special amenity provided by this tool which saves EDB file mailboxes and public folders to Office 365 mailboxes and public folders. With provided Office 365 administrator credentials, the Office account gets added and data can be easily moved from EDB to Office 365.
Date Range and Email Address Filter Criteria
To filter the heavy EDB data or to sort out the file items for conversion, there are two filter options. One is custom date range in which user can add a date range for the selection of items lying in that range and the second one is sorting the mailbox data by email addresses name.
Multiple File Formats Conversion
Users have privilege to make choice from the different file formats to save their EDB data. Their choices are PST, RTF, EML, HTML, MSG, etc. So, it is independent choice of user to select their file formats for conversion with intact data.
Automatic Search of EDB in Drive
Let the software search the EDB files hidden or lost at the system location. It integrates a feature namely Find EDB which scan out the defined system drive to fetch all the .edb extension files and list them. Users can select the desired EDB from the list and then carry out the conversion.
Privilege to Save & Load Scan
For future reference, SysTools EDB to PST Converter allows saving the scan file of EDB mailboxes to the system storage location. This saved file can be reloaded in the software with Load option to directly get the scanned Edb mailboxes and users can perform conversion from that point.
Sort out Emails by Different Criteria
Convert EDB to PST tool has intense searching criteria for extracting specific emails. It sorts out the EDB mailboxes emails on the basis of To, From, Cc, Subject, Attachment Name, Importance, Body, and Item Type. It further provides more filters Any Criteria, Exact Match, and Both on the scanned emails and searches the exactly required emails.
Systematic and Objective User Interface
The Graphic User Interface of the converter tool is well-planned and designed according to the convenience and understanding of a novice user. Each step descripts itself and progress to another step in a clear and systematic manner making conversion an easy task.
Universal Support to All Versions
The old generation and new generation, both are welcomed with their Outlook and Exchange versions to perform the EDB to PST conversion with doted accuracy. The latest versions 2019, 2016 and 2013 are also compatible with this updated robust software.
Software Features

FREE Version

FULL Version
Migrates EDB to PST & Recovers Deleted Exchange Mailbox
Supports Conversion of Single or Multiple EDB File & Archive Mailboxes to PST
Converts Public Folders to PST
Multiple Options for File Saving to EML, MSG, RTF, PDF, & HTML formats
Facilitates Export Offline EDB to Live Exchange & Office 365
Saving Options
Supports MS Outlook Office 365, 2019, 2016, 2013, 2010, 2007 and 2003
Supports MS Exchange 2019, 2016, 2013, 2010, 2007, & older versions.
Supports Windows 10, 8.1, 8, 7, Vista & XP OS
Do I need Exchange Server installation to convert Offline EDB to PST?
Not required. It will convert Offline EDB files to Outlook PST format without any Exchange installation.
If this software allows moving only one Live Exchange mailbox to Office 365?
Yes. You can move single or selected multiple EDB mailboxes to Office 365 anytime using this SysTools EDB to PST tool.
How many EDB public folders can be moved to Office 365 public folders?
There is no such limits on quantity of public folders for migration. You can move as many as you want.
What is the success rate of complete conversion of EDB mailboxes to PST?
The software guarantees 100 percent EDB to PST conversion without any flaws. However, you can take a trial with the free demo version of the tool for your satisfaction.
What are the filter options to move only selected EDB data to PST?
EDB data can be filter with custom date range and email addresses filter criteria. For moving only specific emails, search filters by references like To, From, Cc, Subject, Body, Attachments, etc. are also available.
What will be the requirements for Online EDB data conversion to PST or other formats?
User must connect to Domain controller as an Exchange administrator to perform the online EDB conversion to PST and other formats.
What is the reason that some Exchange mailboxes show disconnected as their status when got scanned in the software?
The main reasons responsible for disconnected mailboxes in their frequency priority are:

The mailbox store containing the disconnected mailboxes is dismounted.
The client computer, not a member of 'Exchange Server' domain has been logged in.
User has not granted full access permission for that mailbox.
My EDB archive mailboxes data has become incomplete due to some data loss. Can the tool perform its recovery before converting to PST?
Yes, SysTools EDB to PST Converter repairs all the EDB mailboxes data including the archived mailboxes lost or deleted data as well with its intelligent algorithms.
Does the tool create public folders in Office 365 account while moving Exchange mailboxes to it?
No. There must be Office 365 public folders already available in the account to which the desired number Exchange mailboxes need to be moved.
What is the normal EDB to PST conversion time duration by this tool?
It solely depends on the size of your EDB data. The more the size of EDB mailboxes, more time it will take for conversion. However, the software delivers quicker than expected conversion for EDB mailboxes with complete accuracy.
Supported Versions:
MS Exchange Server: Version 2019, 2016, 2013, 2010, 2007, 2003, 2000 and 5.5
MS Outlook: Version 2019, 2016, 2013, 2010, 2007 and 2003
Operating System: Windows 10, 8.1, 8, 7, Vista, XP, 2000, 98 and Windows Server 2012, 2008
System Requirements:
Processor: Pentium Class
RAM: 4 GB Minimum
Hard disk: 100 MB
Software Interface Language
English, Spanish, French, German, Italian
License Types
Single User - For one PC
Corporate
Technician - For multiple PC at diffrent locations
License Validity
Lifetime Software license validity (no renewal required) with all future updates
Software License Delivery
Electronic License by Email
Phsycal copy
Testimonials
" I was totally taken a back by the results produced by the software as there was no single bit of information lost while performing migration from Exchange Server to MS Outlook. It was superb tool bundled with various features which add up to make it the best among all. Really happy with my decision of choosing it."

" I decided to select the tool in order to view my previous mails from Exchange Server through MS Outlook. And I am really proud of my choice. It is designed in such a way so as to satisfy each and every requirement of any user. The time taken by it to perform conversion is very less and also I could convert it online without hampering my ongoing work."

" Really appreciate the efforts of development team to come up with such a SysTools EDB to PST Converter tool which looks like has been customized according to every user. I am totally satisfied with the results produced by this tool and I would recommend it to my friends and all others who are reading my review. Amazing software!! Thanks DRT!!"