Migrate Gmail to Office 365 With 5 Simple Steps
Email
|
6 min read
|
Colton Garcia
|
Updated On - December 25, 2022
Gmail to Office 365 migration can be considered by any single user or by the complete organization. It may be owing to the relocation of enterprise or Office cloud features and stability. The migration of data from one location to another is completely user's choice and requirements. Moving from web-based email client application to cloud application can be accomplished either through manual ways or through professional third-party software. Since the users tend to try manual solution more, for their satisfaction, we have provided the procedure which they can try themselves.
Manually migrating Gmail mailboxes data to Office 365
This manual migration procedure is divided into steps and needs to be followed sequentially one after another. Perform the process of migration of Gmail to Office 365 as follows:
#1. Verification of user's domain in Office 365
Here, the user needs to verify first to Office 365 that they own the Domain used in Gmail account. Perform the steps.
Login to the Office 365 account and click on Admin. On Admin Center page, click on Go to Setup (found near Your Setup is Incomplete).
In Select Domain, go to Add Domain. Select the radio button "I already have a domain name" and then enter the domain name you own. After that, click Next.
Now Verify Domain with either of the 2 options, Sign-in to go-daddy or by Verify TXT record. In the former, user need to sign with the credentials of go-daddy and in the later, verifying by adding TXT value manually provided by Microsoft to user's domain name.
#2. Adding and Licensing the Users to Office 365
In this step, user need to add users to Office 365 and after deciding how many users are required to be created, purchase licenses for them before creating in Office 365. Go to Admin-center>Billing>Subscription>Add/Remove License. Then select the number of licenses for purchase which can be monthly subscription or annual subscription.
Now add the users to Office 365 by navigating to Admin Center>Users>Active Users>More>Import Multiple Users. Here, by selecting the option Download a CSV file with headers and sample user information, you can download a sample file and create a CSV file for adding multiple users. That CSV file contain the details based on the header row -) User Name 2) First Name 3) Last Name 4) Display Name 5) Job Title 6) Department 7) Office Number 8) Office Phone 9) Mobile Phone 10) Fax 11) Address 12) City 13) State or Province 14) ZIP or Postal Code 15) Country or Region and rest the users details in the next rows.
After creating the CSV file, click on Browse, select the file and add it. You can verify the format by clicking on Verify tab. After the validation of format, click on Next.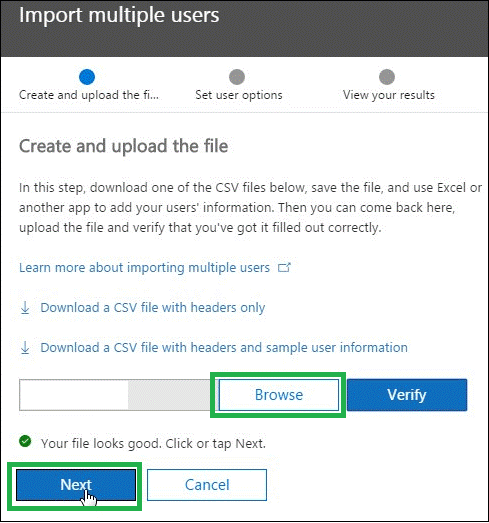 The users will be added. Now, assign the product licenses purchased earlier to each one of the added user.
#3. Creating List of Gmail mailboxes for migration
Users should have list of email addresses of all the mailboxes along with passwords beforehand in Excel sheet. For email addresses information, user can sign in to Office 365 and go to Users>Active Users and copy all the created users' email address.
Now create a CSV file adding user's details under the header row – 1. Email Address, 2. User name, 3. Password, where 1. Email Address is the email address of the Office 365 mailbox, 2. User name is the sign-in name of Gmail's mailbox, 3. Password is the password for the Gmail mailbox's user.


#4. Establishing a connection between Office 365 and Gmail application
Connection can be made between Office 365 and Gmail is through migration end-points (technical term for settings required for building connections for migration). To create migration endpoints required for connection between two applications, perform the steps:
Open Exchange admin center and go to Recepients>Migration>More… >Migration endpoints.
Click New+ to create migration endpoint and then select IMAP option on Select the migration endpoint type page.
IMAP migration configuration page will get opened. Now, set IMAP server to imap.gmail.com keeping rest settings to default and click Next.
If the connection is successful, Enter general information page will get opened. Enter a migration end-point name (let the rest blanks to take default value) and click New.
The new migration endpoint will get created.
#5. Starting migration with creating a migration batch
Moving ahead in the manual migration process from Gmail to Office 365, a migration batch needs to be created. Create the migration batch with the given steps:
Sign-in to Office 365, click on Admin center. Go to Admin Centers>Exchange.
Navigate to Recipients>Migration. Click on New+> Migrate to Exchange Online.
Select IMAP migration and click on Next.
In the opened Select Users page, click Browse, select and add the migration file created in step 3.
Office 365 will start verifying the file on different criteria. If file is OK, it will come up with the information about number of mailboxes to migrate. Click on Next.
In the next opened page, select the migration endpoint which was created earlier and click on Next.
The IMAP migration configuration page will get opened. Select the default values and click on Next.
In the next Move configuration page, enter the migration batch name, apply the filter options (if required) and click on Next.
Start the batch page will get opened. Here you can select an address to receive migration reports by clicking on Browse option. And go to Automatically start the batch>new. The migration starts and shows Syncing as the status.

So, the migration of Gmail mailboxes to Office has started and will take some time to complete. Users can check the status of migration by visiting Exchange Admin Center and navigating to Recipients>Migration and checking if the status has updated to Syncd.
The task is not over yet. To ensure a successful migration, each migrated users should follow the steps:
Sign-in to Office 365 account with username and temporary password.
Update the password and set the correct time zone.
Open Outlook Web App and send an email to another Office 365 user and in Outlook, check whether all folders are present.
The manual migration process that we just discussed can be performed but healthy only if the user or organization has sufficient time. Also, chances of errors are also there with such a long process. Technical knowledge is a requirement here. For busy users and urgent scenarios, taking help from a professional third-party tool like IMAP to Office 365 migration tool is recommended. The advanced software is affordable and comes with intelligent filter options. So, if you are looking for an error-free reliable migration, consider this tool freely.