Microsoft Outlook application contains a complete mailbox under its PST file with all folders like inbox, sent items, drafts, etc. containing emails and its metadata. One exchange emails from Outlook within or outside the organization. But have you wondered anytime that all emails are not available in your PST mailbox inbox folder?
So, this issue is common to most of the users working on the Outlook application after a while or in a busy schedule. There could be many reasons behind this "Outlook inbox not showing all emails" issue which we are going to list under.

Expert Solution
Try automatic solution to repair corrupt and damaged PST file and save to existing or new PST and other formats with Outlook PST Repair tool.
Possible reasons behind "Outlook inbox not showing all emails" issue
Internet connection is poor or unavailable
Unsynchronized emails due to multiple reasons – power supply, conflict due to programs, etc.
Added filter in Outlook folder View Settings
PST file is over-sized
As we can assume that not finding some important emails in your inbox could annoy any user and makes him worry on part of that, we would try to discuss some important and working solutions which any Outlook user can try to get the missing emails back in the Outlook inbox folder. For that, carry on with our upcoming section.
Effective workouts to fix "Outlook inbox not showing all emails" issue
Users are suggested to go through each manual solution explained below to fix this emails missing problem.
1. Check for your internet connection
Make sure that your internet connection is working efficiently without any interruptions. If not, set up a secured connection again and check for the new emails again in the inbox folder.
2. Use Send/Receive option
Sometimes, Outlook emails remains non-synchronized due to sudden loss of power supply or network, conflicts in programs, etc. Users can try navigating to the Send/Receive tab available at the top section of the Microsoft Outlook interface. Click on the Send/Receive All Folders to either send or receive unsynchronized emails within all the Outlook mailbox folders. The Send/Receive will take some time for updating the emails, wait for the completion and then check if emails are received or not.
3. Check default View Settings
If Outlook users are have already tried the above two solutions and still not got success in receiving the missing emails back, then the next step they can take is to check for any filter application in the default View Settings of the Outlook folders. Follow the given set of instructions to check out for any filters on the Outlook folders view settings.
Open your Microsoft Outlook application.
On the Outlook ribbon, click on the View tab.
Under the View tab, select the option Current View and then click on Customize Current View.

Move to the Filter option and then click on Clear All option to clear all the applied filters.
Go to the Outlook inbox folder, click on Send/Receive option and check if all the missing emails are back in the folder again or not.
4. Create space in Outlook Mailbox
Sometimes the reason could be no more available space in your Outlook mailbox which is quite a rare chance but still you can try cleaning your mailbox by deleting the unimportant archive or old emails from your Outlook application to check for this reason. You can run the Mailbox Cleanup tool available at the File tab>>Tools>>Mailbox Cleanup location.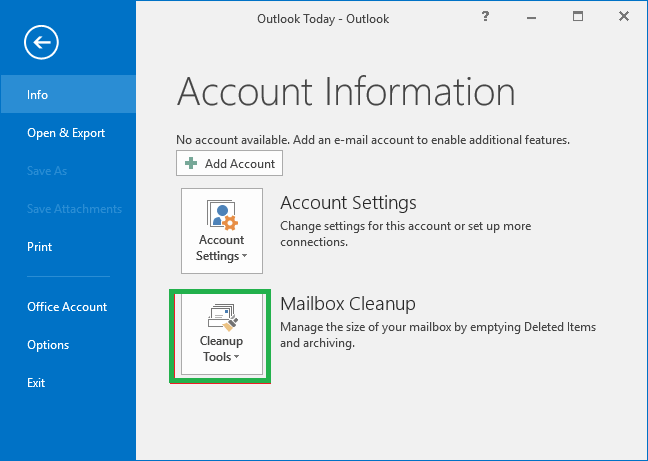 Choose from multiple options like
View Mailbox Size
Find items older than
Find items larger than
View Deleted Items Size
Empty Deleted Items folder
View Conflicts Size
Empty Conflicts
And clean out your mailbox as per your requirement. Then move to the Outlook inbox folder, click on Send/Receive option and look out for the missing emails before.
5. Re-add Outlook account/Import Old Emails from Backup
If you have not got success yet, then we suggest you two more methods to get the missing emails back.
Remove and re-add your Outlook account – Users can try this hit and trial method which is removing the Outlook account from Control Panel>>Mail>>Email Accounts location and re-add the new account from the same location. It may set the original settings again to retrieve the missing emails.
Import old emails from backup file – You can either use an available backup PST file or create a PST backup using Import/Export feature in the Outlook application with Export action. After having a backup file, import it with all the inbox emails to the current Outlook PST file using the same Import/Export feature. It may happen that you can receive your missing emails this time.
So, we discussed all the possible workouts to fix "Outlook inbox not showing all emails" issue and hope that at least one of it would be helpful to you.
If you are suffering from other Outlook errors or corruption in PST files, feel free to ask us. In advance, we present you the most efficient tool available in the market for resolving or repairing corruption in Outlook data file (PST). This is an advanced platform for fixing all kinds of corruptions in all sorts of PST files without any loopholes. It retrieves complete mailbox data and provides multiples saving destination options. The tool works for all Outlook versions and Windows Operating Systems.
Final Words
The blog was all about explaining multiple solutions to fix "Outlook inbox not showing all emails" issue which are manual tips and tricks. An efficient third-party PST Repair Tool is also introduced for resolving all issues with Outlook PST files.