It is always a great experience to have the latest and trending videos of your favorite artist. However, what happens when you want to download such videos from the TikTok app
but find them deleted? It can be very frustrating as well as disappointing. But worry not! Keep reading the blog to learn more about the process or methods to recover deleted TikTok videos quickly.
Read also:
2 Solutions to
Repair MP4
Video Files Free
However, before proceeding with the methods, let's understand the reasons behind the deletion of TikTok videos.
Why do TikTok Videos Get Deleted?
TikTok videos can be deleted in several ways. The most common is when the user accidentally deletes the video. Another way is when the user's account is deleted or banned. When this happens, all of the user's videos are also deleted. TikTok itself can also remove TikTok videos if it violates the platform's guidelines. However, there are ways to recover deleted TikTok videos. There is various video recovery software to recover deleted Tiktok files. TikTok also has a feature that allows users to restore their deleted videos from their backup files.
User Query: While using the mobile phone abruptly, I found that many videos get deleted. Can anyone help me get back those deleted videos at any cost? Your help will be highly appreciated.
Well, within this blog, we will discuss methods to restore deleted TikTok videos on computers as well as on mobile phones. Continue reading!!
How to Recover Deleted TikTok Videos on a Computer?
In order to edit their videos and for other reasons, many TikTok users first store them on their computers. Consider the following methods if your TikTok videos have been removed from a Mac or Windows PC.
1. Restore Deleted TikTok Videos from the Recycle Bin or Trash
Make sure to check your computer's Recycle Bin or Trash folder before taking any intense action to get back those videos. Our files are not immediately deleted from the system when we delete something, as you know. Whenever a video or file gets deleted, it is temporarily saved in the recycle bin or trash.
Thus, in order to get back those videos- A Windows user can navigate to recycle bin. From there, find or filter out your TikTok videos that get deleted accidentally. Right-click on each of them to restore the particular video to its original location or path.
You can check the below image for a better understanding.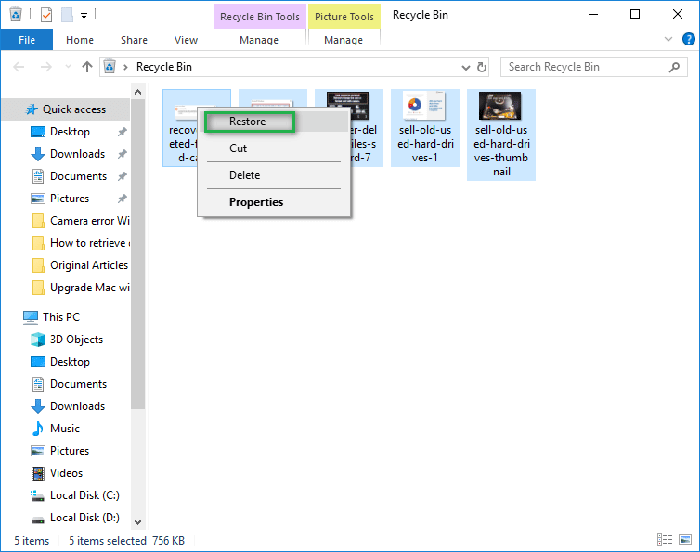 Similar options are available to Mac users using their Dock or Finder to look for deleted videos in the Trash folder. To restore it, open its context menu and select the "Put Back" option.
2. Recover TikTok Deleted Videos from Backup
Everybody understands how important it is to have a backup of user data. For our social media videos and photos, the same rule applies. You can quickly restore your videos using the backup data if they were lost or accidentally deleted. Existing market participants are acutely aware of the value of maintaining a backup of their essential data. Users can quickly back up their videos using their phone by syncing videos to any cloud service, such as Google Drive or the iOS Photos app.
You can try the recovery process below if you aren't the type who regularly backs up videos and photos.
Well, there are multiple users who are continuously looking for an alternative to getting back deleted TikTok videos by using their mobile phones. Thus, In order to recover those videos from mobile phones, you can consider the below-mentioned methods.
How to Recover Deleted TikTok Videos on Mobile Phones?
1. Restore from Your Liked TikTok Videos
Users with public TikTok accounts are the only ones who can use the technique, it should be noted. This is so that the like feature, which relies on people liking your video, can function. For those who have a private TikTok account, however, this method will not be effective.
Here are the steps to follow to restore from the liked videos:
Open your TikTok application on your phone.
Now, enter your login credentials and log in to the application.
Then click on the "Me" icon from the right-bottom side.
After that, select the heart icon under the Edit profile section.
Here, you will find all your liked videos. Now, find and open the deleted video.
Again, click on the three horizontal dots icon.
Next, hit on the save video or recover button. After that, the same will be saved into your phone gallery.
If you wish to upload again, you can choose the video from your phone's gallery and upload it to your TikTok account.
2. Drafts Back Videos on TikTok
TikTok allows you to post or save a video as a draft after you've finished recording and editing it. The Drafts feature saves the videos to your phone's storage so you can access them later. Sometimes we forget to post a video and assume it has been deleted, but it may have been sitting in our Drafts the entire time.
How to quickly get your draft video back:
Check your album/device's gallery > TikTok folder.
However, this approach has drawbacks. The following instructions are useless for you if you do not click save to album when creating the draft video. Sadly, it is not possible to recover your draft video.
3. Contact Customer Support
You can directly recover deleted videos by contacting TikTok. Choose "Report a problem under "Settings and privacy." You can describe your issue after tapping the report; TikTok will fix it in 24 hours. They will give you a link to retrieve your deleted videos.
However, numerous users reported issues while streaming the downloaded TikTok videos. But, you need not worry about this; it might be due to corruption in the video files. If you find the same issues with your downloaded videos, then you must give a try to the below-mentioned solution.
Repair Corrupt Videos using Professional Video Repair Tool
If you are experiencing the same corruption-related TikTok videos are not playing problem, you can choose the best fix Video Repair tool to resolve the issue. Videos on your Windows system can be fixed with this software. This software can repair all video file formats, including TikTok's. And once the videos have been fixed, you can save them wherever you want.
Supported video formats are MP4, MOV, WMV, AVI, AVCHD, MKV, and many more.
Final Takeaway-
TikTok videos may be deleted for several reasons, but thankfully there are some easy ways to recover them. If you have accidentally deleted a TikTok video, or if your account has been banned and all your videos deleted, don't despair — there are still ways to get them back. With the methods described in this article, you should be able to recover any deleted TikTok videos quickly. So go ahead and give it a try!