Are you looking for the best possible ways to fix the JPEG file errors? If yes, then you are landed on the right page. In this technical guide, you will get the best possible ways to resolve the error using the manual and the professional technique. So, continue scrolling this post to know all of them in detail.
The JPEG format is one of the most common types of image files that are used online, especially to put photos online. JPEG is an acronym that stands for Joint Photographic Experts Group, and this is the name of the group that created the format. It is a very popular image format that is used worldwide, and this is because it is a very versatile file type. However, it is possible to have errors with JPEG files, and so in this blog post, we are going to take a look at some of the most common types of JPEG file errors and also how they can be fixed. But before directly jumping into the solution, let's have a look at some of the major causes behind the error.
What Are the Causes Behind the JPEG File Error?
Whenever you transfer a picture file in your computer, sometimes you can encounter a JPEG file error. This error is often caused by several factors. But what really causes a JPEG file error? JPEG format is a popular format that is used in many digital devices such as cameras, phones, and tablets. We have listed some of them below. Read all of them carefully.
When the scanning of the JPEG files are incomplete.
If the storage device is infected due to any bug.
Due to the faults or issues in the file codings or description.
In case of damaged or corrupt header files.
If there is low or dim power supply while capturing pictures.
All the above listed reasons insists the users to repair corrupt JPEG file as soon as possible. Therefore, in the next section, we are going to discuss the best suitable ways for the same. But before that, let's find out the top JPEG errors.
List of Top 5 JPEG Errrors and their Solutions
JPEG is a highly-acclaimed file format for the storage and transfer of digital images and photographs. But there are certain types of
issues that can crop up when using this format with documents or images that have been scanned. It's very important to get an idea of what could go wrong and what you can do to fix them. Luckily, there are a few solutions that are simple to implement and will ensure that your digital files are not corrupted.
Invalid Value for Registry
JPEG Error #52
JPEG Error #53
JPEG File Error Code 0x80070522
Invalid Markers
#1. Invalid Value for Registry
When the JPEG image file is accessed by a user, they are presented with this error. It's because of corruption in the registry and is most likely after an operating system upgrade, like going from Windows 8/8.1 to Windows 10, for example. When we try to open the JPEG file, it gives an error message "Invalid Value for Registry" with a path that is not recognized by that program. Now, follow the below-given method in a proper sequence.
Firstly, install the latest drivers.
After that, you have to update the image viewer program.
Then, delete the outdated entries and restart the program again.
#2. JPEG Error #52
If you save a file with one extension as a file with another extension, the file becomes corrupted. This happens when you attempt to save a file with any JPEG file extension as any other file. For example, if you try to save a JPEG file as a BMP file, it will corrupt and become unusable. This can be a confusing experience, especially since it is not uncommon to see 8 or 16 bit files like .png or .bmp. To prevent this from happening, make sure you always open any file from the correct application.
Firstly, verify the original source file extension.
In the next step, change the file extension of the image to .jpeg using the Save as option or manual modification.
After that, trying opening the image with an alternate image viewer program.
#3. JPEG Error #53
With this error, one has a hard time accessing the file, and that is due to corruption in the operating system. However, they must take into consider other reasons, which include misplacing or forgetting the original extension when saving it or having issues with RAM, hard drive, installed programs and registry problems.
In the first step, open the file in image editors like Adobe Photoshop or pain and save it in the .jpeg file format.
Now, try to download the file again anf check if there is an incomplete download issue.
After that, accessing the corrupt .jpeg file with another viewer program.
Then, copy the JPEG file and save it with .jpeg extension that works if the extension modification is the main reasons behind that.
#4. JPEG File Error Code 0x80070522
The error message you see typically means that the image you are trying to access has been modified or edited in a way that prevents the program or person who is trying to access the file from being able to load it. If you want to fix this problem, you will want to try and get back to the image's original state. You can do that by opening the image and using tools to undo the changes that have been made. You can also try accessing the image through another channel, like uploading it to another website.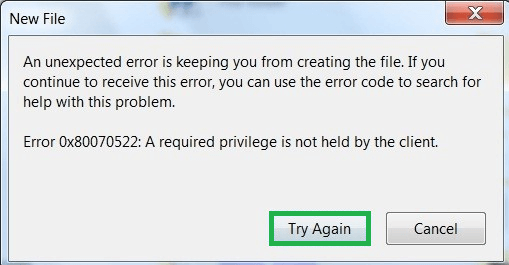 First, you have to get the permission to access the file and then try to open it again.
After that, disable the Admin Approval Mode in Local Policies.
(Note: For this, enter secpol.msc in Windows)
Run box and following Local Policies > Security Options > User Account Control Admin.

Then. right click on the User Account Control Admin Approval and click on the Properties option to Disabled.

#5. Invalid Makers
The improperly or incompletely downloaded image files acquired from the internet could be the cause of this error. This can also be due to encoding or decoding issues or bad sectors on the storage media for these files. The error is difficult to fix manually, but it is possible for a device to solve the issue under the circumstances by making use of four different resolution settings in an attempt to download and read through each photo save on your computer, which are: 320 × 240, 400 × 300, 480 × 360 and finally 640 × 480.
First of all, rename the file and see if it can be accessed or not.
Now, run the hardware troubleshooting if the error is due to the connnection issues or storage devices problems.
After that, open the affected file in the another photo viewer application.
Then, save the file in the another format using the paint or other application.
All errors shown above can be fixed with the solutions provided along with it, or there is a good possibility that one or more of the errors will remain as they are. This indicates strongly the likelihood of an occurring error due to some problem in the JPEG files. At this time, we strongly recommend going for efficient, quick, and secure software for repairing your JPEG files.
To overcome all the issues faced in the above manual techniques, we have introduced the Photo Repair tool. The software effectively repairs the damaged, distorted, greyed-out, pixelated, and highly corrupted photos from multiple formats such as JPEG, JPG, GIF, RIFF, RAF, TIF, MRW, and NEF, BMP, and many more file formats. Apart from that, the software repairs multiple image file formats in a single go. Moreover, it repairs large image files into different formats. Furthermore, it supports every Windows media image file format.
Final Verdict
If you're an avid photographer, you probably already know how important it is to back up your photos. But once they're backed up, it's also important to maintain them properly. To help you do so, we've put together this list of the top five JPEG file errors and the ways to fix them using the manual and the professional solution. Users can opt for the best photo repair software method as per their choice. Thankyou for reading this post. Feel free to reach us.