Mozilla Thunderbird is the email client from Mozilla group. Like any other email client, it has many limitations like a limited folder size, attachment size, and number of accounts. When the accounts reach to their maximum size, then the email communication will also stop. So, you can back up the existing account and make more space for the new data.
Also, there is a constant threat of hardware or software malfunction that can corrupt the data file of Thunderbird and delete all the account. So, taking a backup is always beneficial for any Thunderbird user. You can also backup Thunderbird to Hard drive and save it on a different computer.
Benefits of saving Thunderbird emails to hard drive
Backup reduces the size of the mailbox making it agile to the emails.
Saving emails in the hard drive can become helpful during a crisis when the original mailbox has become corrupt.
Security features of Thunderbird are not robust like Outlook, so the malware and spyware can easily attack it. Taking a backup increases the chances of better data security.
Because Thunderbird is an open-source application, so there is no constant upgrades or technical support to help the users.
How to backup Thunderbird to Hard drive
There is no inbuilt facility to directly export the selected emails to an offline file. But, there can be two methods that facilitate saving emails more accurately.
Use Import-Export Add-on in Thunderbird
There is a special add-on tool that can both Export and Import emails from a Thunderbird account. It is available at the following web page –
https://addons.thunderbird.net/en-us/thunderbird/addon/importexporttools/
You can download and install the add-on and it will be ready for usage.


Now, you can go to any folder in your mailbox and right-click to it. The add-on will show the options to export and import the data. Choose to Export all messages in the folder. Then select EML format.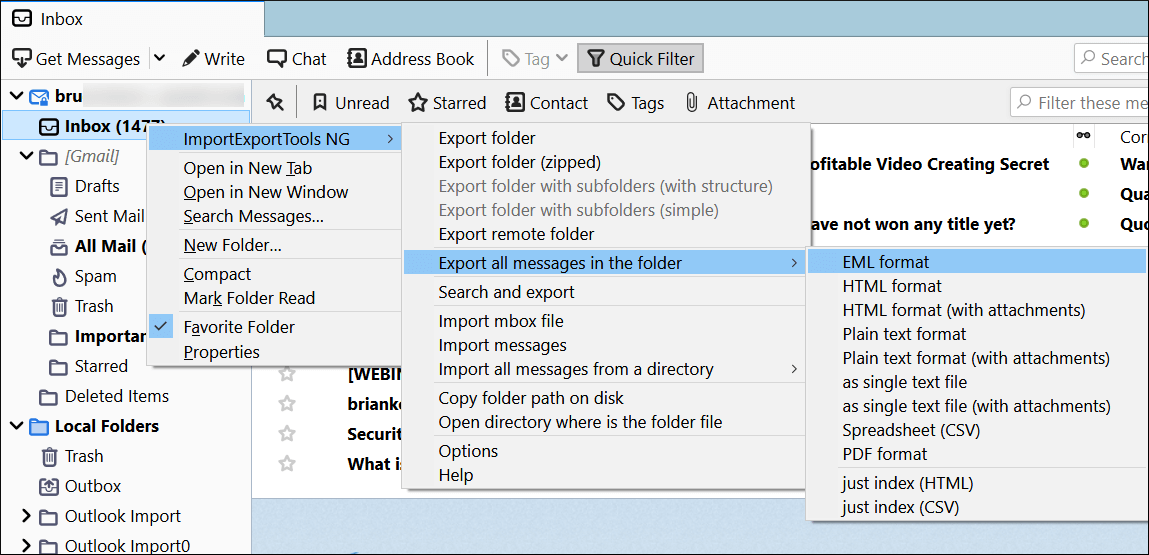 NOTE – As you want to save your emails in a different hard drive, so you should select EML format. EML is the default format for an email. If you want to keep emails protected with their attachments, then you should choose HTML format.
Select the folder to save emails in it. Click Select Folder.

The emails are present in the EML file individually. You can double-click on any file and read the content.

Move the emails to external hard drive.
Backup Thunderbird profile
The Import-Export tool gives you the ability to export individual folder only, but the default method of backup Thunderbird to Hard Drive. Follow the below steps-
Open Thunderbird application and click three horizontal lines to display the menu options for your account.
Click Help, then choose Troubleshooting Information.
Go to the section for Profile folder and click Open folder option.
Select the Profile and right-click to copy it or you can go back up to three levels to choose entire Thunderbird folder containing all profiles.
Close Thunderbird application.
After copying the desired folder, go to respective folder of the hard drive and paste the data there.
Method – 3. Use a professional software
If you have used the above-mentioned method to export the Thunderbird emails through application or saving the complete profile, then you will be familiar with the challenges with both methods. So, you should use a professional Thunderbird backup software that can select the data from various accounts present in Thunderbird and save them into an offline file. As the data file format of Thunderbird is MBOX, so you should get an MBOX to PST Converter software.
Conclusion
When the users are using Thunderbird professionally, then they should take a routine backup of their emails and a professional MBOX to PST Converter software can backup Thunderbird to hard drive easily. The software can show you the preview of the selected emails and other contents and provide you with suitable filters to select only the important data. Apart from PST, you can save emails in EML, HTML, MHTML, RTF, and many other formats.
So, rather than being dependent on the free MBOX to PST conversion methods with limited benefits, you should use a professional MBOX Converter and get the best results.