MBOX is an important file format that is used to store all the data from the mailbox in a single file. Various email client softwares such as power mail, SeaMonkey, Eudora, Mozilla Thunderbird
mostly rely and depend on MBOX to store the information. This data which is stored in emails is protected by MBOX. The email clients take over the responsibility to enhance the business communication and at the same time act as a mediator between the two ends.

Expert Solutions
Get automatic solution to convert MBOX/MBX files of more than 20 email clients like AppleMail, Entourage, Eudora etc to Outlook PST file formats with the help of MBOX to PST tool.
MS Outlook is one such application which can be basically used to create multiple accounts and all these accounts can be configured together. They provide additional features to the users such as accessing calendars, tasks, notes and journals. However, these features can be availed only and only when MBOX files have been converted to PST files as the default files which are operational in Outlook are PST files.
Why is MS Outlook Preferred over MBOX Email Clients?
There are many reasons due to a user converts MBOX to PST files. The list of these reasons have been given in the following way:
PST files can support multiple types of data. MBOX files on the other hand are embedded in a single file format and are useful for storing only limited email messages.
The PST file systematically stores data in separate folders. Calendars, Contacts and Inbox are also separated from each other. MBOX format, on the other hand, is very standard and are usually saved together.
The PST files are connected with various email clients to which the MBOX Files are not linked to.
The PST files are controlled by the back end softwares and hence offer a high-end security. They prevent the loss of data and protect the passwords from any unauthorised usage. The MBOX files are not very secure.
PST files can be easily backed up by the MS Outlook itself. However, MBOX files can be backed up with the help of third party softwares.
Users can work on the PST files without any connection while they cannot work on MBOX files without internet
| PST File | MBOX File |
| --- | --- |
| PST file saves emails, contacts, calendar, notes, drafts, archives, etc. chronologically in various folders | MBOX file saves only emails sequentially |
| It is possible to work offline in Outlook | MBOX file's clients does not work in offline |
| PST file can be created manually by exporting in Outlook. | To export MBOX file, you require third-party add-ons |
| Outlook supports more languages than the MBOX clients. | MBOX clients do not support majority of languages. |
| Outlook has better security features to protect PST files. | MBOX clients have limited security arrangements. |
There are some free solutions to convert MBOX TO PST that can be tried once. The available free methods for the MBOX to PST conversion are:
Method 1: Save MBOX emails as EML Files
This solution involves the idea of saving the required MBOX emails to EML file format and then exporting these files to the Outlook application using the Import/Export feature. Let us know this process as follows:
Open the MBOX email client and then Right-click on the folder. Click on the new folder.

Enter the name and then click Create folder.

Select the EML messages that you want to migrate and move to the newly created folder.

Now all the emails would be present in the new folder.
Choose all the mails and select the Save as option. Your files would be saved to the desired location.


Export Emails to an External Folder
There is yet another method to convert MBOX to EML. The selected emails can be exported to an external folder with the help of an add-on. It can be used to handle a large number of emails in one go.
Open any browser and click on the three horizontal lines on the right hand side corner of the same.
Click Add-ons and then choose the Get Adds-ons option.
Choose Import Export Tools Add-ons and then click add to browser.
Click on 'Install' button in the software installation wizard. Once the extension has been added, restart the browser.
Once the browser has opened, you can choose any folder and then right click it. Click Import Export tools and then export all messages in the folder. Click on EML format.
Select the destination and click on save option.
Export Emails to PST Files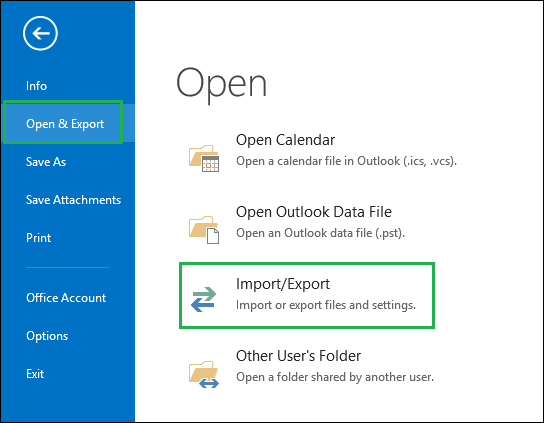 Click on the File menu and then select the Export to a file option and click Next.

Select Outlook data file (.pst) as the next option and click on Next.

Now, from the folders, select that folder with EML files and click on Next.

Add the saving location for PST file, select the option for managing duplicate items and click on Finish.

The MBOX file is converted to PST finally.
Note: To move a few important emails in the EML files users can simply drag the EML files exported from the MBOX email client and drop them to a specific folder of the PST mailbox in the opened Outlook application.
Method 2: Convert through Multiple Email Clients
This method involves multiple-stages to ultimately reach to the MBOX to PST conversion. First stage includes moving MBOX files to AppleMail email client, second stage calls for creating mailboxes in Eudora email client, third stage for importing mailboxes in Outlook Express and the final stage ultimately importing mailboxes from Outlook Express to Outlook.
To make it clear, let us know the procedure steps stage wise which must be followed in sequence only.
Note: User should install AppleMail, Eudora, Outlook Express and Outlook on the system beforehand to perform this process.
First Stage – Importing MBOX to AppleMail

Open the AppleMail application and follow File>Import Mailboxes.
Now, select File in MBOX Format option and click on Continue to move further.
In the next window, browse the MBOX file location for conversion and select the option Choose to select the items to import and then click on Continue.
The import process will begin. Click on Done when it is completed.
The MBOX file is imported to AppleMail account.

Second Stage – Creating Mailbox in Eudora Email Client

Follow the steps as given:

First rename and add extension .mbx to the imported MBOX file, for example – test.mbx.
Go to this location C:Documents and Settings<user>Application Data\Qualcomm\Eudora and paste this imported test.mbx file.
Now, launch your Eudora application and select the test.mbx file for confirmation of its existence as a mailbox.

Third Stage – Importing MBOX file from Eudora to Outlook Express

Perform the import process as follows:

Start the installed Outlook Express and then click File and select Import and then click on Messages option.
Select Eudora option and then click on Next.
Browse the MBOX file, test.mbx and click on OK. Move further by clicking on Next, again Next and finally click on Finish option.
The MBOX file will get saved at the local folders in Outlook Express.

Final Stage – Importing MBOX file from Outlook Express to Outlook

Using the Import feature in Outlook, it would be easy to move the Outlook Express file to it. Let us understand the process.

Start the Outlook application and go to File>Import>Import and Export.
In the Import and Export Wizard, select Import Internet Mail and Addresses option and click on Next

Now select Outlook Express 4.x, 5.x, 6.x or Window Mail, select other import options (Import Mail & Import Address Book) and click on Next.

Once the import gets completed, the conversion process is finished and finally MBOX is converted to PST.
Issues/Limitations with Free Methods
The limitations which resist users to perform the above native solutions are listed below:
Indirect, complex procedures
Long and confusing process
No ensured data integrity
Only emails transfer with EML conversion method
High chances of data and properties loss
Lot of technical expertise required
Small data conversion only
Risks of MBOX folder structure loss
Do not support multiple MBOX files conversion
Chances of SMTP header corruption or loss
Need too many email clients installation (more than two)
If you are not interested in taking risk or investing time in the free solutions, feel free to perform MBOX to PST conversion in the automated way by the robust MBOX to PST Converter solution. It directly converts MBOX file without any data limitations using 4-5 steps only. The process is simple, accurate and efficient as perfect conversion is achieved in some minutes only. Take a trial with its demo version available on the site and then decide to own it.
Software Comparision
Free Solution
MBOX to PST Converter
To run the second manual process, Outlook Express is out of support by Microsoft any more.
The software converts MBOX files without any multi staged method.
Drag-&-drop attempt to move the MBOX data may cause email deletion.
The software convert an MBOX file directly.
It requires multiple email clients.
There is no requirement to use any email clients using the software.
The manual process is suitable for email transfer only.
The software supports emails as well as other data file objects.
The lengthy manual process can convert one MBOX file at a time.
The software can convert multiple MBOX files in a parallel manner.
Conclusion
We would like to conclude this blog with the assessment that there are free solutions available to convert MBOX to PST but all of them are indirect, complex and lengthy. Also, one cannot rely on them completely. Therefore, converting MBOX file to PST via an intelligent professional tool such as an MBOX to PST Converter would be a better, time-saving and efficient idea