A duplicate file finder is a tool that allows the user to find all the duplicate files in their computer system and delete them to free space for other files. it helps users in organizing their files better and provide extra storage space that can be used. There are file finders that even find the near duplicate files and identify among them if there are files that can be removed. Therefore it is important to find the right type of duplicate file finder for Windows 10 since it doesn't have a built-in tool for this purpose.
In this blog, we will look at different duplicate file finders out of which the user can choose what finder suits them the best.
Role of Duplicate file finders
A duplicate file finder may not be seen as an important utility tool but it is one for sure. It helps any type of user be it commercial or personal.
The duplicate file finder makes your system faster and lighter by deleting the extra data. The lighter the system, the faster it gets.
It helps the user in Data management which is an essential attribute for an intelligent user.
Finding the Best Duplicate file finder
We will look at different duplicate file finders in this blog but every user has different requirements and hence they can choose the file finder that suits them the best.
#1. CCleaner
It is one of the all-rounders of this game and has multiple tools and features to help the user. It has the efficiency and reputation for quality which always come through. The utility includes powerful tools to clean up your system against the bloatware and digital trash accumulated in your system. Data management is another feature of this tool and it can manage data files by sorting them by name, size, content, or date modified.


Features:
It is lightweight and easy to use.
Offers custom search options.
Compatible with Windows 10, 8, and 7.
Reliable application and multiple years' industry experience.
Updates regularly.
Cost:
It has different pricing tiers.
Starts at $29.95 and 30-day trial.
#2. XYplorer
This tool is considered one of the best file finder and data management utilities. It has a feature of deep search by activating a duplicate detection feature. This eases up the process of finding duplicate files on your system.


Features:
It is a customizable and highly user-friendly utility.
It uses a bit-by-bit comparison to find out the duplicate files in the system.
Managing, relocating, and transfer of files get easier.
Cost:
Comes with two pricing- standard and lifetime.
Standard cost- $39.95
Lifetime cost- $79.95
#3. Auslogics Duplicate file finder
Auslogics duplicate file finder is one of the best file finders for external hard drives. It also improves the system's performance by finding and deleting duplicate files in your system. Auslogics has a good set of features that enables the efficient finding of duplicate files. The use of the MD5 engine makes it more accurate and efficient. This tool can send the duplicate file to recycle bin and also delete it forever according to the user's preference.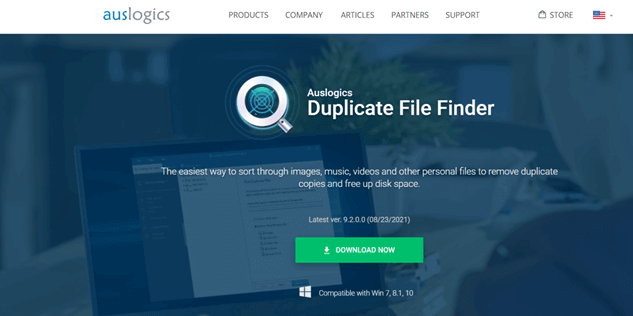 Features:
It has various filters according to various parameters to find duplicate files.
It can also check for .exe duplicate files and clear space up.
It is the most budget-friendly duplicate file finder since it is free of cost.
Availability in different languages makes it user-friendly.
It can be used on external devices as well.
Cost:
#4. Easy Duplicate file finder
Easy Duplicate file finder is another one in the list of best duplicate file finders because of its amazing features. It allows the user to have a preference for automatic deleting and also the user can review the findings of the search. This one is also known for its visuals and comprehensive data representation. It is a simple yet effective tool for finding duplicate files on the system.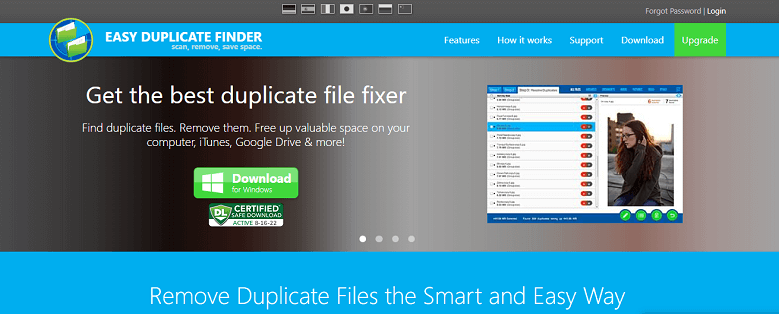 Features:
The accuracy of finding duplicate files is very high.
Can remove all the duplicate files at once.
Visual graphics and representation give the user an easy understanding.
Compatible with Windows XP and onwards.
Cost:
$39.95 for a single device.
$49.95 for 3 devices.
$59.95 for 5 computers.
$69.95 for 10 computers.
#5. DupeGuru
Many duplicate file finders are similar in algorithms and features but Dupe Guru is the most advanced among its contemporaries. It has multiple parameters and features that allow it to find duplicate files easily even if it is music files. This is one of the most efficient file-finding tools with such advanced algorithms and features.

Features:
The advanced algorithm used by this tool can track different parameters such as tags, attributes, even metadata, etc.
Customization of settings is easier to narrow down the type of duplicate files you are looking to delete.
With a new music mode, it can identify duplicate music files and delete them with ease.
Cost:
#6. Wise Duplicate Finder
Wise is a user-friendly duplicate file finder that is designed and developed keeping common sense in mind. By common sense, it means that users will understand the use quite easily. It has many features and parameters to find duplicate files and delete them to make your computer efficient and fast again.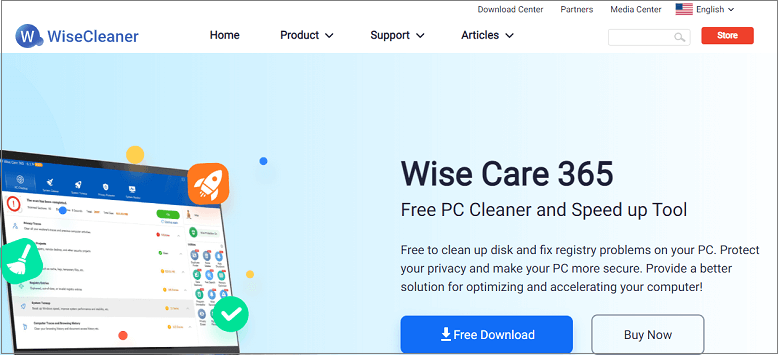 Features:
One of the main features of this tool is that apart from duplicate files it also tracks empty folders and suggests removing them.
It has multilingual settings so it can be used by many users per their comfort.
Another great feature is to recover deleted files.
It is less in cost as compared to other paid file finders.
Cost:
$19.95 for the Pro version.
#7. Fast Duplicate File finder
It is another algorithm-based file finder that is very advanced. It uses binary comparisons between files to find out the hiding duplicate files on your system and delete them. It is highly user-friendly because of its simple AI and features.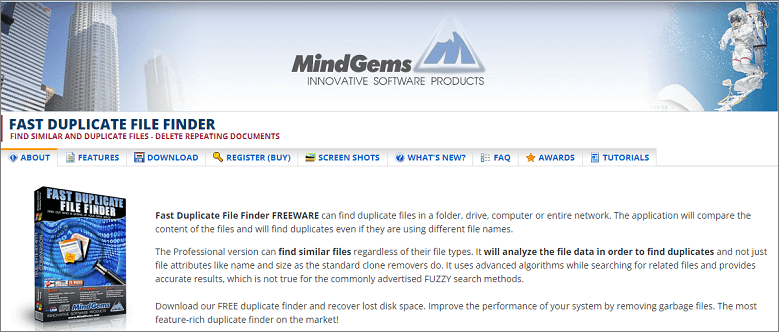 Features:
Use binary comparisons to find duplicate files.
Has simple AI which makes it user-friendly.
Provides a limited free version if you require it for only a short time.
Compatible with Windows 10.
Cost:
#8. AllDup
AllDup is an algorithm-based duplicate file finder tool that reads through texts and numbers quickly. It also shows the percentage of duplicated data in texts for you to see whether to delete them or not. This file finder is efficient, easy, and fast.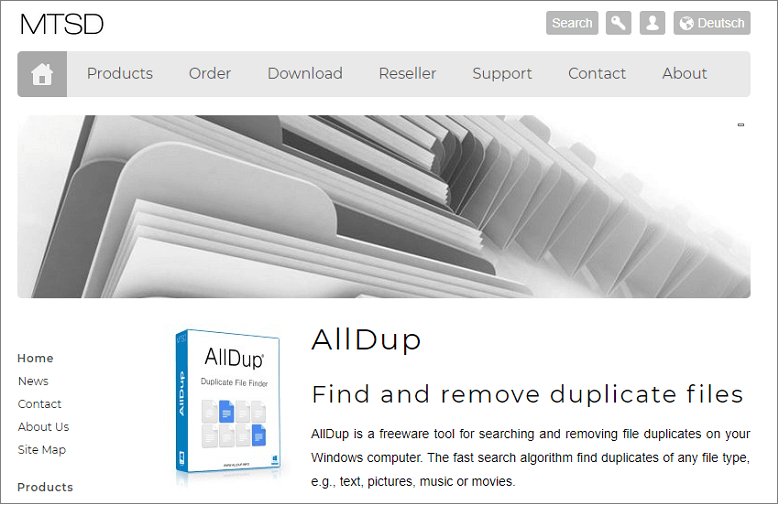 Features:
Saves results after scanning files.
Looks deep into the texts of the files so that the percentage of the file can be narrowed.
Easily configurable.
Cost: 
#9. Duplicate Sweeper
This is a specialist duplicate file finder that chucks out duplicates from deep in the system. It can scan documents, texts, audio, videos, and pictures all at once. This special duplicate file finder also helps declutter platforms such as Google Drive and Dropbox with ease.

Features:
Preview option before deleting.
Can be worked on big platforms and multiple file types.
Affordable.
Compatible with Windows Vista and above.
Cost:
It has only a one-time payment for life- $20.
#10. SearchMyFiles
This is a freeware duplicate file finder that offers superb flexibility in finding duplicate files along with the normal search of your computer system. It has many filters to apply and it is one of the most preferred tools for tech lovers when finding duplicate files.
Features:
No need to install it. Can be used by attaching a USB.
Many filters are available for the search.
Compatible with Windows 2000 and onwards.
Cost:
Since no premium version is available it is free of cost.
Conclusion
There are many duplicate files gathered in your computer system that occupies storage space for no reason. Duplicate file finders help in finding them and deleting them from the system to make more space in the system. It also makes computers more efficient and faster.