Smartphones and normal camera-based devices record video in MP4 format. This format can play the video in a desktop or mobile application like VLC or Windows Media Player. But, the professional DSLR and camcorders from Sony, Nikon, etc. create an AVCHD video file with .MTS extension. These videos have pixelation with 720p and 1080p and they have Blu-ray compatibility.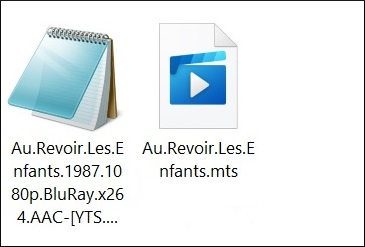 How to open the MTS file on the computer?
There is software(s) included in the SONY and Panasonic camcorders and other camera devices that can play the MTS video files. Other Windows applications like Windows Media Player, GOM, and VLC can run the video.
The differences between MTS and MP4 files
As MTS files are created through the professional camera with great pixelation, so it is larger. The MP4 files are created using several compression techniques, so their size can be different. Additionally, the MTS videos are supposed to run on the blu-ray disk format, so they support only limited devices that are compatible with Blu-ray technology.
Thus, the users like to convert their MTS files to other formats like MP4 to make them more adjustable and commonly usable.
There are several methods to convert the videos and you can use them as per their availability and usefulness.
#1. Convert using VLC Player
The VLC Player is a small-time conversion software also. It offers some simple formats as the destination for a source format. It has MP4 as one of the destinations that you can select for your MTS file.
Start VLC Player and Click the Media option in the menu bar. Then, choose Convert / Save option.

Click Add button to select the MTS file.

Choose the MTS file from the folder location and click Convert / Save.

In the Profile drop-down, choose the appropriate MP4 format with its compression level.

Click the Browse button to select the destination folder to save the new MP4 file after conversion. At last, click Start.

After the completion of the conversion, you can access the MP4 file from the older MTS format.
Some online converters can convert between two selected formats. You can use some of the prominent ones that support the MTS format as a source.
#2. Convert using zamzar
Zamzar is a popular conversion website that can convert between various formats. You can use the following URL:
https://www.zamzar.com/convert/mts-to-mp4/

You can create a new account and add an MTS file there. You can choose multiple files at the same time.
#3. Convert using online-convert
One another prominent website for video conversion is online-convert and it offers various settings to adjust the destination video. The following is the URL:
https://video.online-convert.com/convert/mts-to-mp4


You can click Choose File option and upload the MTS videos, then use the settings to change the appearance of the video based on properties.
Benefits of the MP4 format
MP4 is the default format to stream videos over the Internet. It losses the least quality while compressing a video and it can store other data types like audio, subtitles, MPEG features, scene descriptors, and other parts.
It can support advanced compression standards like h.264 as it can encode streaming information using a separate hint track.
MP4 supports all types of graphic, sound, and other media drivers.
MP4 can incorporate various visual elements in the video including the text. It can be 2-D and 3-D animation parts.
The lower bandwidth connections like DSL and broadband can play MP4 files uninterruptedly. Due to the simple architecture of MP4 files, they can adopt into lower bandwidth connections.
The multimedia companies develop applications that support MP4. Apple's QuickTime runs MP4, Real-Media uses plug-ins, IBM uses MP4 plug-ins. Many companies like Samsung, Sony, JVC, Samsung, etc. make such devices that can play MP4 videos.
MP4 can play DVD quality videos with the rate of 1 Mbps that is quite fast. Any video player that supports MP4 format, then it can play videos from DVD quickly.
Conclusion
The MTS format is useful when you record videos from Sony and Panasonic cameras. As many media players do not support MTS format, then the user requires to convert them to MP4 format. We have given you some manual techniques to convert the MTS files. But, these manual techniques cannot convert large video files before splitting and such files that have high animation in them.
To convert files more accurately, you should use professional video conversion software that supports MTS files. The professional software will convert bigger files in the minimum time and allow you to play them in any desired format.