OST file is Exchange mailboxes data copy stored locally on the machine. Whenever Exchange Server is unavailable, its mailboxes can be accessed via its copy OST file in Outlook application in offline mode. These OST files are always vulnerable to corruption and errors due to local OST file location on system drive but it does not get affected by the health of the Exchange Server. It works on the same computer with the configured Exchange Server while it refuses to open in its OST format on another system Outlook application where the Exchange Server is either not configured or is a different one. So, moving OST to another system in the same format is not possible. That could be possible only if we convert OST file to PST file format.
Why does one needs to convert OST File to PST File?
But why we are discussing to convert OST to PST without Outlook or with. What is the need for conversion?
List of reasons for OST file to PST Conversion
Exchange Server is crashed
Exchange Server under maintenance
Need backup of Exchange mailboxes
OST data migration to another system
Accidental deletion of Exchange account and data
Corruption in Exchange Server database
Let us discuss the situations in which converting OST file to PST file should be the ultimate decision by the user.
#1. Growing OST File Size
OST files have good storage size for storing huge Exchange mailboxes data. Still, in some situations, the data grows multiple times with OST file copy and so, it needs to be handled. This creates the need to archive OST file items and save it on system as PST file format.
Solution
For this manual method, i.e. archiving of OST file items, for which Auto Archive Settings feature in Outlook is required. Open the Outlook application and navigate to File > Info > Options > Advanced > AutoArchive Settings. Here, user can select the number of days at a period of which archiving will take place and also set the destination location for saving the archived OST data into PST file. Though, contacts cannot be archived using this technique.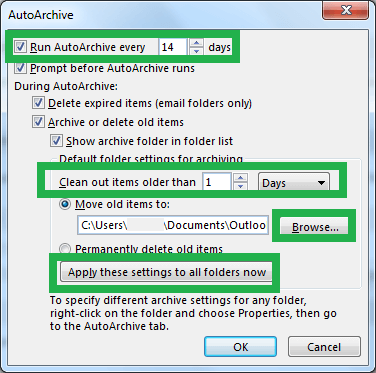 #2. OST becomes Orphaned
An OST file becomes orphaned when its Exchange account gets deleted, crashed, damaged, corrupted, lost or inaccessible due to maintenance. Without a healthy, configured Exchange Server account, the OST file cannot be accessed anymore and requires conversion to PST format and again Outlook application requirement is there for the conversion.
Solution
If you had OST file configured in Outlook via Exchange Server (OST is not orphaned) and is accessible by adopting cached mode and Outlook settings, then the conversion would be possible using these two methods.
Users can create a new Outlook profile to save the OST file items to new profile PST file by dragging and dropping the individual folders like from OST Inbox to PST Inbox 1, OST Drafts to PST Drafts 1 folder and so on.
Another way to convert OST to PST file is through the Export feature in the Outlook application. The method is long, requires focus and can result in failure sometimes. It requires Exchange Server connection to the Outlook application. Also, this method exports only emails content to the PST format and also avoids folder properties and permissions export.
But, unfortunately, for orphaned OST files, no manual ways are feasible for the conversion. Almost, every manual way includes the use of the Microsoft Outlook application for moving OST files to PST files which is sometimes not the user requirement.
So, we have discussed the need for OST to PST conversion and manual methods to achieve it. All methods require Outlook application to perform the conversion and yet not completely secure and dependable. These methods have many limitations like mailbox items limitations, configure OST file size limitations, complexities, long processes, etc. and do not fulfill the user requirements for safe and quick conversion. But here, our aim to provide you a secured, reliable and quick solution conversion and that too without any need of Microsoft Outlook and Exchange Server. Let us more focus on that.
We have a professional solution for you to Open/Convert OST to PST without Outlook, the OST Converter tool. This software does not require Outlook application interface for the conversion instead it needs only OST file for conversion. You can download free version or purchase the full version from its website link and install it on your system.
Let us know how it converts OST to PST file without Outlook through following steps.
Run the downloaded and installed the software. To add the OST file for conversion, click on Browse option and select it from the system location.
Note: If you don't know the exact path, use Find option to search for the OST files in the specific drive.
After adding the OST file, click on Scan Now option to scan the OST file data. The scanning will start and on complete presents the whole OST data in hierarchal structure. Click on any folder item on left pane to view its content preview on right pane.
Select the desired folder items from OST file and click on Save Converted File option. Select PST option, enter a destination path location to save this PST file and click on OK.
The conversion of OST file to PST will get start and complete in very less time.
Hence, you have just seen how it is easy to open OST file in just 4 steps without Outlook through advanced OST to PST Converter tool.
Summary
The OST files importance and the need for its conversion to PST file format are clearly discussed with the reasons. Some manual solutions with Outlook need for conversion are mentioned with the drawbacks. Final section of this blog is secured with the efficient Best OST to PST tool which can convert OST to PST without Outlook.