Want to find a reliable way of sorting your duplicate emails in Outlook? You're in luck! Here we have put together a blog post that will introduce you to the best possible technique for doing this. As avoid Outlook users, we know how frustrating it can be to sort through all of these copies of messages that are exact replicas of each other. As technology grows, so do its capabilities and uniqueness – one great example is Microsoft Outlook which can help users with various organizational needs such as managing their inbox and filtering messages into various folders. But with these perks come some downsides and frustrations too!
Two emails with exactly the same subject can't be sent in one go. However, Outlook does have a default option to delete duplicate contacts in Outlook, so it's important to know if it's possible or necessary for you to take measures to stop receiving duplicate emails.
Possible Reasons to Delete Duplicate Emails in Outlook
We can use Outlook applications to remove duplicate items. Microsoft Outlook applications are mainly used for business purposes. Below are some of the reasons why we need to delete duplicate emails in Outlook:
The configuration is no longer correct due to some wrong configurations.
If your mailbox account is set up incorrectly and you send new emails to previous recipients e-mail id, you may receive the same message fraudulently.
Duplicate emails in an MS Outlook mailbox can be cumbersome and may even cause the mailboxes to grow to a size that negatively impacts performance or corrupts the data file.
Once you've read all the reasons for removing duplicate emails, users are looking for possible solutions to delete duplicate contacts in Outlook. So let's move further towards the manual techniques for doing so.
Different Ways to delete duplicate contacts in Outlook
When you have a lot of contacts in your Outlook, it's usually inevitable that you have duplicates. This can become quite a hassle when you are trying to find a specific person. Luckily, there are different ways to delete duplicate contacts in Outlook that you don't need. Simply follow the given below methods carefully.
Method 1: Check for Configure Rules
First, check whether your Outlook rules are set accordingly. If there are missing or incorrectly configured rules, it can cause confusion with your different email folders. To ensure that doesn't happen, ensure that these Outlook rules are all set up perfectly. In doing so, you'll also ensure that only a single instance of Microsoft Outlook is running at once – which means closing any extra instances using the Task Manager tool on your PC.
Method 2: Select Do not Import Duplicate Items while importing Outlook items
For importing Outlook PST items such as mailbox folder and contacts, you must ensure that the not import duplicate items option has been selected at the end of the import process for ensuring importing items without retaining any sort of duplicate content in the application.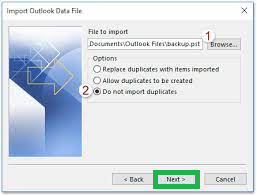 Method 3: Setup the Inbox Frequency
After receiving the error message, you need to double-click on "Options" and choose the Send/Receive tab. Once in there, select your configuration group and change its schedule. For example, change it from every 15 minutes to every 30 mins.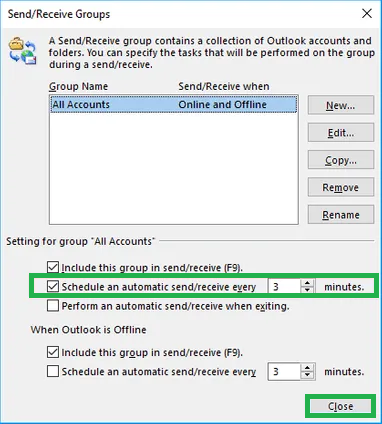 Method 4: Run the Outlook Inbox Clean Up
MS Outlook provides many inbuilt tools to perform multiple activities. Here we will focus on cleaning up duplicate emails, which is called the Cleanup tool. To use the Cleanup tool, one should go to the "Clean up" tab and then click on "Run Clean Up." Further, we can select which folder will be cleaned from the drop-down which appears below that location as well.
Open the MS Outlook application on your device or system.
Now, select the Folder that contains duplicate emails.
After that, click on the Clean Up section.

Method 5: Antivirus Application
If duplicate emails appear in your mailbox, it can be caused by outdated antivirus software. So, if the antivirus program is not up-to-date and protected and does not work properly, then the emails that are not flagged as received are creating a new copy of themselves. In this case, to resolve the issue you need to update your antivirus software and disable protection.
Method 6: Remove Duplicate Items Hassle free
If you want to delete duplicate contacts in Outlook, you can opt for the Outlook duplicate remover utility. It is the best solution to find and eliminate duplicate items from Outlook PST files. It can remove all duplicates of emails, contacts, notes, journals, and tasks by comparing them with each other. The software supports all versions of MS Outlook – 2019 / 2016 / 2013 / 2010 / 2007 / 2003/ 2002(XP) / 2000.
Final Words
It's easy to have duplicate contacts in Outlook. Business cards can be copied and pasted into Outlook, for instance, and Outlook sometimes just doesn't catch the duplicates on its own. This blog post is a simple method that you can use when you want to delete duplicate contacts in Outlook.