Get acknowledged about the different manual methods to fix the OST file issue in which "The file username.ost is in use and cannot be accessed" error is received while performing Send/Receive actions in the application through this help blog.
The display of the OST error is like this –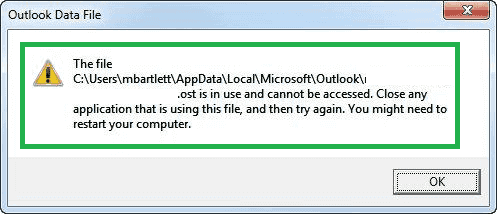 The error "The file username.ost is in use and cannot be accessed, close any application that is using this file" happens while accessing Send and Receive option. It restricts the users to access OST data or use any further features in Outlook. The reasons which we can state for this OST error are –
Improper network connection
Running processes in background
Access is unauthorized
Multiple users attempting to access file like in networked systems
Fault in Outlook Add-ins
Conflict in Outlook and other applications
The reason could be any of the above points or other as well but the error outcome is same.
Microsoft cares for the users and provides some manual tasks or methods for error resolution help. These techniques are free and do not guarantee hundred percent success. So, users with patience and time only or those who are ready to invest their good amount of time and efforts are advised to take help from the manual solutions explained in the next section to resolve "The file username.ost is in use and cannot be accessed". after trying the primary solutions like restarting the Outlook application, Windows system, changing OST file location from network folder to local folder, and checking the internet connectivity for apt configuration.
Manual Ways to Resolve Error "The file username.ost is in use and cannot be accessed" in Outlook
In this main section, we will be discussing some methods which users can run to resolve this error and make OST data accessible for use. Manual methods do not provide complete guarantee for fixing of the OST error. However, users can give a try to tackle this error with the below-given solutions.
1. Running Outlook in Safe Mode
It is the basic solution which users can try to fix the error. It will disable the faulty Outlook Add-ins which causes disturbance to Outlook application and its data. So, run Outlook in safe mode by typing outlook.exe /safe in the Run box (press Windows+R) dialogue box and clicking on OK.
Then go to Options in your Outlook application and click on Add-ins option. Click on Go option. Select the Add-ins which you think are faulty and click on Remove option further.
Try restarting the system and confirm if it fixed the error or not.
2. End All Outlook Tasks
As the error message itself saying that OST is in use by other Outlook related tasks or actions. To view and end the tasks, open the Task Manager by pressing Ctrl, Alt and Del keys together. In the opened task bar, switch to the Processes tab. Select processes like Outlook, lync, ucmapi, communicator, etc or which you think can bother the application working, then click on End task option. Wait until all selected tasks get closed. After this, restart your system. Now check for any changes.
Note: Change the .ost file location from network to local on your system, if it is currently stored on network location.
3. Disabling Outlook Cached Exchange Mode
To disable the Cached Exchange Mode, open the Control Panel wizard in your system. Go to Mail option, click on it. In the Mail Properties dialog box, click on Email Accounts option. After that, click on the Email tab. Now select the Email ID and click on Change. Here, uncheck the box saying "Use cached Exchange Mode" Click on Next option and then finally Finish option. Perform Send/Receive action now and check if error pops up again or not.
Remember to turn on the Exchange cached mode after this process.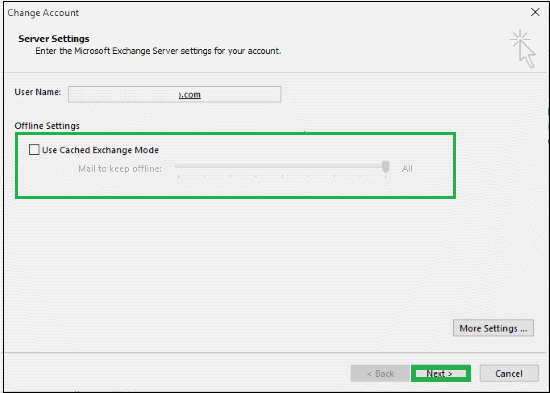 4. Repairing OST File with scanOST.exe
If every above method is failing, then corruption issue can be prevalent in the OST file format. Users can utilize the free in-built utility, scanOST.exe to repair the OST file for Outlook versions up to 2007 version. This is a big limitation as new Outlook versions are in trend but you can utilize the scanPST.exe application for repairing the .ost files in new versions of Outlook. The default location for the inbuilt repair application for Outlook 2007 and above versions is.
For 32-bit Outlook: C:\Program Files (x86)\Microsoft Office\Office16\
For 64-bit Outlook: C:\Program Files\Microsoft Office\Office16\
Follow these steps to repair the corrupted OST file.
Note that Outlook PST application needs to be closed before running this utility.
Launch the inbuilt application. It has listed Outlook profiles of the user; choose the profile of OST file for repair.
Now select the files, folders of OST file for OST Integrity Check.
Select the checkbox saying Repair Errors and then click on Begin Scan option.
The scan will progress and on completion delivers an informational message that the scan is completed.
Note: For newer Outlook versions (above Outlook 2007 version), users can take help of the scanPST.exe application to fix the corrupt .ost file though there is no guarantee of the fix as it repairs minor errors only and does not support encrypted OST files.
All these solutions may or may not provide satisfactory results as manual errors risk is always involved. So, it is always dicey that OST file data is accessible towards the end and size limitations are also involved. The last and most promising method is going with a Best OST to PST third-party tool which can fix the OST errors effectively and make it accessible as per the user's convenience.
OST to PST Converter solution is a one perfect solution for all OST file errors which converts healthy/corrupt OST to PST file format. It perfectly fixes all OST errors utilizing its smart integrated algorithms and retrieves complete OST data in front of the users. For recovery and conversion, there is no need of Outlook or Exchange Server to be installed as well. And this converted PST file by the tool can be moved to any other system freely for use. The converter tool delivers selected data recovery in the quickest possible time. Users can get an overview or idea about the tool by running its free trial version available on its main site. So, make a wise choice and be carefree about the OST issues.