Offline storage Files or what is OST file – As the name indicates, it is created in an environment which is devoid of network connections. It is basically an Outlook Data File used by Microsoft Exchange Server allowing users to exchange email data without any access to the mail server. The two default locations of the OST file based on the different Outlook versions are as under.
C:\Users\\AppData\Local\Microsoft\Outlook
C:\Documents and Settings\\Local Settings\Application Data\Microsoft\Outlook
Sometimes we have done some sort of changes but we don't recall that such changes are made in the OST files. These OST files are copied automatically when ever information is exchanged on the Outlook platform.
This goes as follows: The mail is exchanged between the client and the server. In the server the original message is sent, while the user's system entails a default copy of the OST files. After sometime, if the user wishes to make some changes in the corresponding OST files, then it can be made at the same time, even if the network connections are not enabled which later on gets updated as soon as the connection between Exchange Server and Outlook client is reestablished.
What is OST File and its Features
OST files work differently than the Outlook PST file as under:
OST files cannot be transferred from one system to another for direct use in the system Outlook application as it will require the same Exchange Server version configured with the account.
On configuration of the Exchange Server with the Microsoft Outlook application, it will create the linked OST file with Exchange mailboxes information automatically and save it to the local system path.
OST files are for offline use and best for limited network connectivity domains.
OST file can be archived or backup to Outlook PST file format.
One cannot open two OST files together in the application.
With synchronization between Exchange Server and Outlook email client, headers and full items are transported.
In Outlook 2016 and higher versions, OST file is used by several accounts (IMAP, Exchange, Office 365 and Outlook.com) for storing mailbox information. But, PST is used by a POP3 account only.
Bit-Locker Encryption is supported for OST file in versions above Outlook 2007 and Encrypted File System for other Outlook versions.
Enabling the Modifications in OST Files
When the Offline changes are made in the OST files, the actual changes are not made in the real OST file which is stored in the Exchange Server. These changes are made in the OST files which are the copy of the real OST files and are stored by default in MS Outlook. The changes are automatically saved and later on get updated when network connection is enabled. The updated changes can be witnessed in the real OST file which is saved in Exchange Server.
Creating OST File by Own
Creating OST file may differ somehow on different versions of MS Outlook.
OST files for Outlook 2007, 2010, 2013, 2016 and 2019.
If you are using Outlook 2007, then click on the Tools menu. For Outlook 2010 users, click on File Tab -> Info -> Account Settings.
From Account Settings, click on Microsoft Exchange followed by More Settings.
On Advanced tab click on Offline Folder File Settings. For Outlook 2013 users Outlook Data File Settings must be used.
From File box, type the path name of the file you want to use followed by OK. The default name of such file would be Outlook.ost.
If such file is already present, then a dialog box will appear. Click OK ->Next->Finish.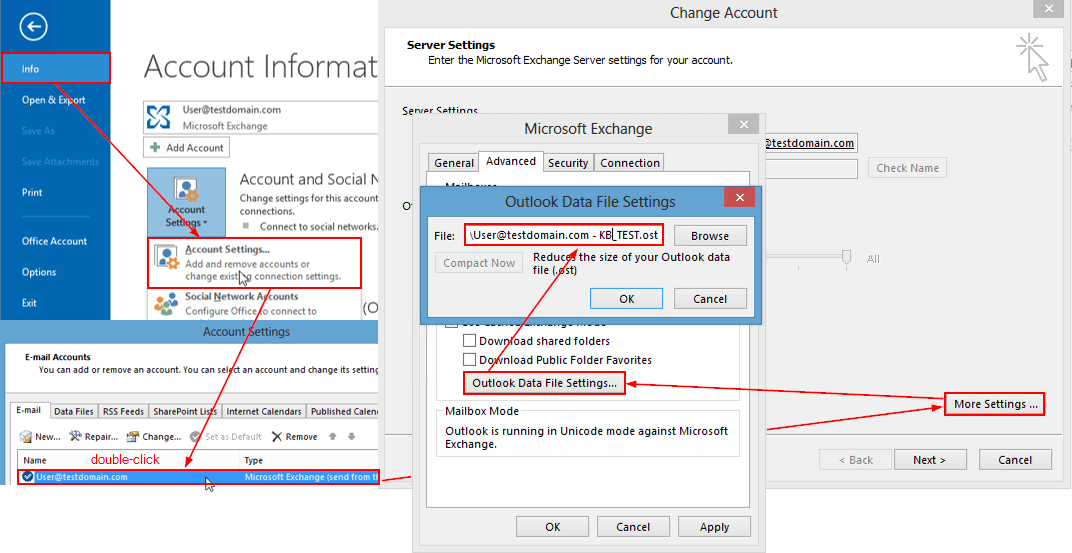 For Outlook 2002 and 2003 users
From Tools menu, click E-Mail Accounts ->View or Change Existing Mail Accounts->Next.
In Outlook processes email for these accounts in the following order box, click on Microsoft Exchange Server followed by Change.
Click on More Settings followed by clicking on Advanced tab, then Offline Folder File Settings.
In File Box type the file path which you desire to use. Click OK. The default name of the file is Outlook.ost.
If the file is already pre-existing, then the system will promptly respond to it. Just click OK ->Next ->Finish.
Maintaining OST files
Creating OST files is one thing and maintaining them is completely the other side of the story. Alike PST file of Outlook platform, the OST files are also prone to corruption. Most of the times, when user is not concerned with these technical glitches, the inaccessibility of such files are treated as severe in every aspect i.e. even if the corruption is minor.
To deal with minor issues, there is an inbuilt utility named 'scanost.exe' which is present in Outlook 2007 and prior versions. It is also known as Integrity Check tool which scans OST files for errors and corruption issues. It is of limited use as it is available for only old Outlook versions and cannot handle severe corruption issues in the OST file.
However, if the user is taking services from the recent versions of Outlook, then it is recommended to take assistance from an external agency. The external agencies make use of sophisticated set of algorithms in its software like – OST to PST tool to deal with OST-related issues automatically and securely without any limitations and converting it to PST and more file formats or destination platforms.
What works the best?
The following measures must be taken for better functioning of OST files and their creation:
Be clear about the file path, name and other required attributes.
Ensure that the path name is correct and contains the name of the file as decided.
Recheck system network connections before making changes in OST files.
Try inbuilt utility if possible followed by evaluation version of an external agency or third-party tool.
Keeping these things in the mind will support your OST-work to be smoothly carried on without any halts and hurdles.
OST files are not portable, shows vulnerability to corruption due to local system errors, sudden shutdown, antivirus influence, etc. and can be found as orphan to the user. In such cases, the conversion of OST file to PST file is required after the recovery of corrupted, inaccessible orphaned OST data. Choose the converter tool for automated conversion of OST files to PST files with the choice of data export using smart filters. Try the free version of the tool to get an idea of the tool's features in advance.
Ending Up
The whole idea of the blog is well projected to users with the discussion and the importance what is OST file while working with the Microsoft Outlook application. Other than that, OST file vulnerability to corruption and other errors is also talked along with possible solutions – both manual and automatic best OST to PST software.