Every day we face data causality in some form. Sometimes it is reversed and sometimes we have to start from scratch. Doing initialization for any work that has already consumed lot of work seems quite tedious and we generally ask someone else to do it for us.
Technically, as a human what we consider as deletion is a never existing term in the binary world. We delete certain files from our system, clean trash, sometime format the system and perform other functions to maintain our system in steady state. During such process some files may go accidentally deleted and becomes our reason of concern.
When the file(s) get deleted from the system either by pressing delete or shift + delete, data does not go anywhere i.e. it simply gets eclipsed. In simpler terms, if you are working on paper notebook and you have done some sort of grave error in the first page, then you will definitely go on the second page to give a fresh start. Similarly, when we delete our data or when the data gets deleted, it simply gets eclipsed followed by arrival of fresh RAM to work on it, if needed.
To reinstate the former files into the system is possible by simply pressing some keys of the software. Some software are freely available and performs recovery of the deleted data precisely and that too in impeccable timings. The top 5 free Windows data recovery tools are as follows:
#1) Recuva
Piriform's Recuva is a free data recovery tool that has managed to set its impact over billions of professionals. These professionals not only trust this majestic tool but also strongly recommend the same to the others.
Be it your systems' recycle bin, digital camera, hard disk or mp3 player, Recuva deems fit for the recovery of the data with good precision. On contrary it also permanently shreds files without leaving any traces to reinstate it. With greater flexibility there are chances of better recovery of files from corrupt disk or newly formatted disk.
To perform better, Recuva supports Windows XP, Vista, 7 and 8 OS along with 2003 and 2008 versions of Windows Server. Recuva provides you the accessibility to the recovery software even in the absence of internet connection. This is done by downloading the portable version of the software in a USB and takes it where you go.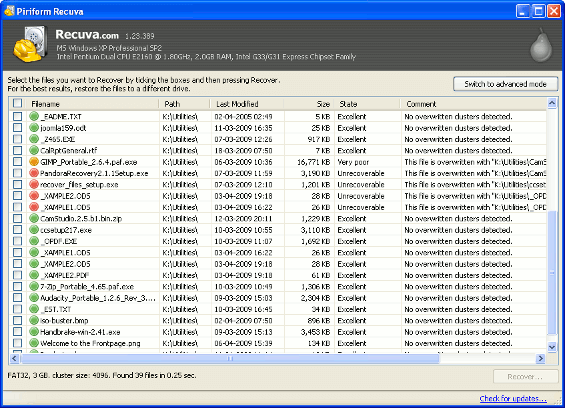 #2) Disk Drill
Disk Drill guarantees recovery of the deleted files without presenting you a series of questions. It happens simply because the software is equipped with multiple data recovery algorithms that recognize NTFS, HFS+, FAT 32, EXT and other different file formats. Install any device to the system, Disk Drill thoroughly scans it and recovers the internal content with great precision.
Try the software for recovering up to 100 MB data from your system, laptop, camcorder, memory card and mass storage devices. You can pause-resume the recovery process whenever needed without affecting the recovery of the data from hard disk or removable storage devices.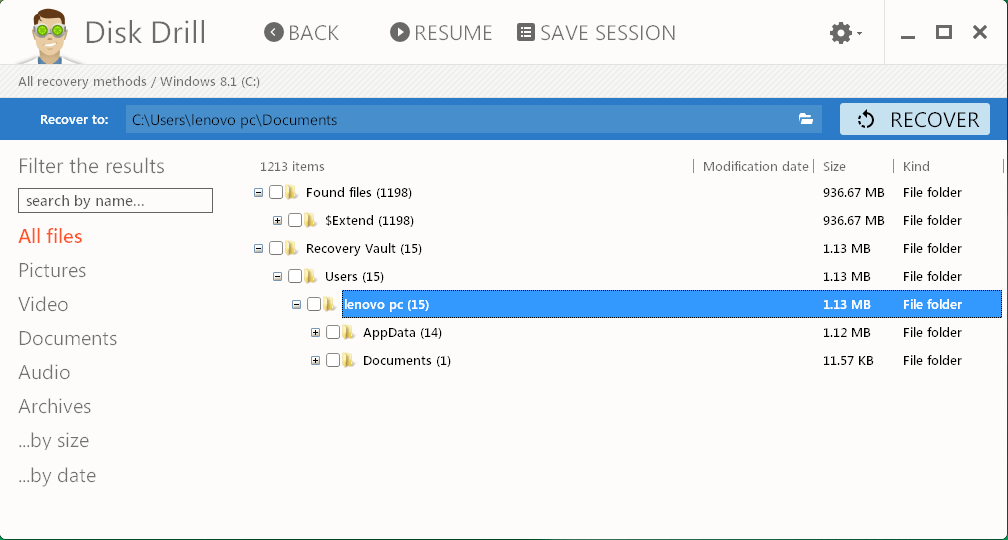 3) Glary Undelete
Gary Undelete is a free solution to reinstate the deleted data of your system as it supports FAT and NTFS file systems which are profoundly used nowadays. Even if your files were in recycle bin that got permanently deleted or you have actually deleted the data using shift+dlete key combination, Glary Undelete covers all sorts of deletion strategies and undeleted all data effectively without pronouncing any failures.
So even if your USB, Hard Drive and other removable drives with certain space for recovery is inserted in the system, the software revives and reinstates the content. The utmost important feature of the software is its ability to filter the obtained results. It performs sorting of the recovered files on the basis of different criteria that assists the user in locating the specific files.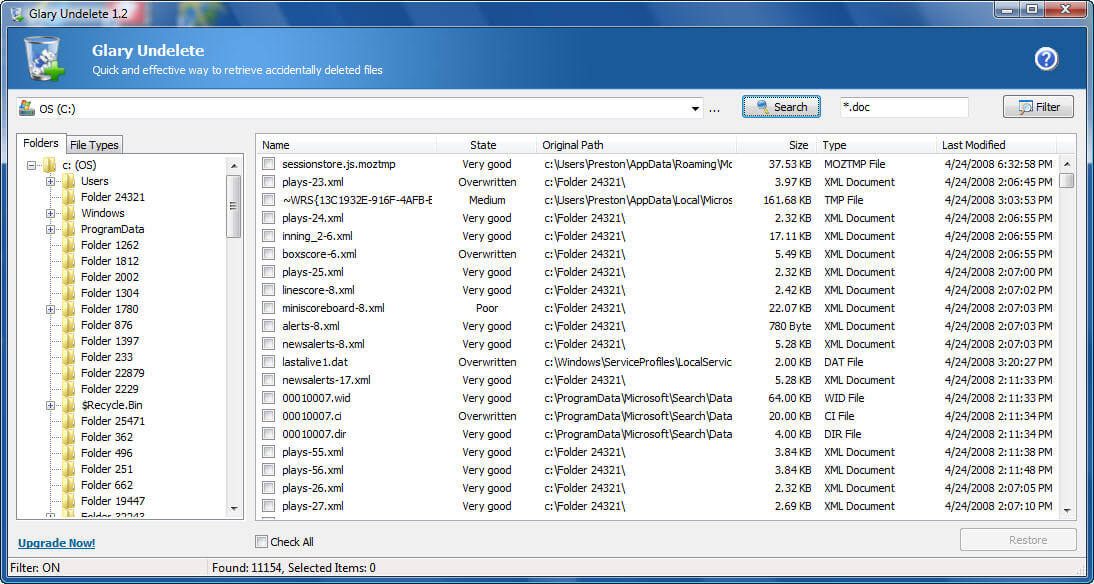 #4) Pandora Recovery
Alike every data recovery software, Pandora Recovery is also contributing its strategy to recover the lost and deleted data from the system and that too in the native position. You can count on the tool for browse, Search, Preview and Recover the data. It is built with sophisticated set of algorithms that unveil the eclipsed files located in removable and non-removable storage devices. Irrespective of the binary support for NTFS and FAT-allocated volumes, the software rigorously scans the drives in question and builds upon the stack of existing and deleted files.
Be it your compressed and password-protected files or other encrypted file, Pandora Recovery software is set to recover them. You can witness the success rate of the data recovery with the percentage of the clusters consumed by the software. To manage it in a better fashion, the recovered clusters are marked in RED.
#5) Puran File Recovery
Devised to recover the lost data from the hard disk and other removable mass storage devices like USB, the comparative of Puran File Recovery is hard to find. To get the uncompromised performance your system must have either of Windows OS versions– XP/Vista/2003/2007/8/10 including 64 bit versions.
To get the best results it is recommended to use Batch Fix feature that keeps you system in good state with optimized performance. The performance of the tool also varies on the selection of different criteria of scans. Depending upon the sort of necessity the scan options must be selected. The Quick, Deep and Full scan options are quite effective against recovery of the unfortunate data that got accidentally deleted.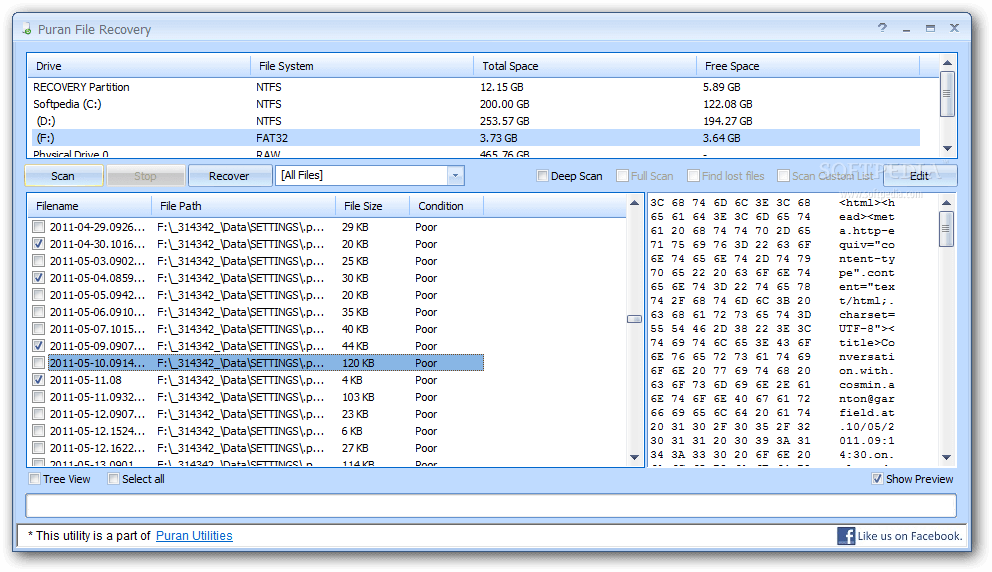 Now, get your recovery job done in a few moments instead of spending quite uncountable hours.
With professional advice and recommendation the top 5 data recovery software may perform differently when compared with each other on the same scale, but like mountain and squirrel story as a wise user you must try them at least once as you may never know when you can hit the best tool to address your issues related to recovery either from phone or system or some other external mass storage devices of your concern.
Above described free tools have their own limitations and if you can not satisfied with the free suggest tools. Then you can try data recovery tool license version which is fully featured and provide you satisfactory results.