One fine day a query by a user attracts my interest in which he said, "I was trying to add PST file in Outlook 2016 and then hit by an error 'Failed to add PST in Outlook 2016. Error 0x80004001′. I closed and restarted the application as well but encountered by the same error again and again. Please provide some solutions to fix it."
I suggested him some solutions which I would like to share with my blog readers going through the same situation. Before that, let us have a discussion over the causes of this error.

The above-mentioned error is displayed while adding a PST file in Outlook 2016. Here are the common causes behind it.
PST file is stored on the network location which is strictly not recommended as bad connection or errors leads to corruption in PST file
Incorrect Outlook installation is another cause for hindrance in PST file addition
Anti-virus software and firewall confliction with Outlook application
Corruption in PSTs due to damaged file systems, bad sectors, network failures, abrupt shutdown, etc.
Corruption in system files and incorrect entries in registry files
Remedy Solutions for Failed to add PST in Outlook 2016 – Error 0x80004001
Try adding PST with Account Settings in Outlook
You can find the Account Settings option when you follow File>Info>Account Settings in the Outlook application. Now in the opened dialog box, switch to Data Files tab and then click on Add option to add the PST file from the system drive location.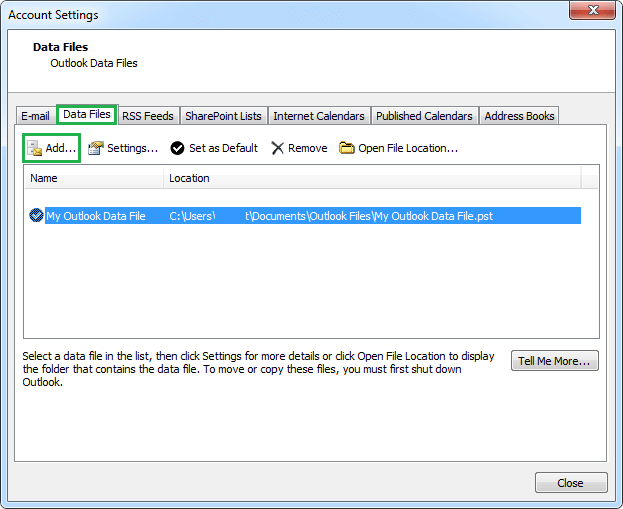 Finally click on OK and exit the window.
If you have tried this method only to add the PST file In the Outlook 2016 application, then check and confirm if all the settings including configuration settings are correct and according to the standards.
Check for correct Anti-virus/Firewall settings
Adjust the settings with the correct configuration and try disabling the Ant-virus software for sometime till the PST file is added to avoid any sort of conflict between the applications. Turn off Windows Firewall temporarily on the system and restart the application.
Use Outlook safe mode to open PST
It is another remedy which users can take help to fix the error and then add PST file in Outlook. To open Outlook application in safe mode, just press Windows button with 'R', a dialogue box will get open. Now type "outlook /safe" and click on OK.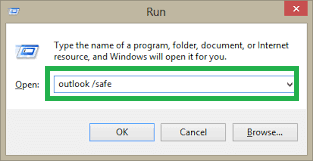 Try adding PST file in your Outlook 2016 application and see if you can make it now.
Also you now know that the problem was in Outlook Add-ins if it gets opened in safe mode, so move to Add-ins by following File>Options>Add-ins, click on Go option against Manage COM Add-ins option and then disable the added Add-ins using the Add-ins option. After doing this, restart the Outlook application in normal mode and check if disabling Add-ins work for you.
Note: Check for suspicious emails with malicious links and attachments in the Outlook inbox and remove them. Then restart the application to check the effect.
Review Outlook Account Settings
It is an effective and preventive measure to check for the error. Users must ensure that the Outlook account settings, linked Outlook profile to the affected PST file is correctly set and configure through the Mail Setup feature in the Control Panel of the system. If any issue is found, correct the settings for the respective account and then try to restart the Outlook application. If needed, create a new Outlook profile from the same Mail Setup feature and link PST file to it.
Replace PST file from Network Location
As already has mentioned that the PST file stored on a network path is not recommended because any connection fault or manual errors may lead to corruption of the stored PST file which then results in the Outlook error such as "Failed to Add PST in Outlook 2016, Error 0x80004001".
So, users must cut the stored PST from the network saved location to the regular system drive location and then import or add it in the Outlook application again. This can be the helpful solution.
Repair PST file and then add
As mentioned earlier, corruption in PST file could be the reason behind this error 0x8000401 while trying to add the PST file in Outlook application. So, user is required to take this step to repair PST file if the above two solutions are not useful for them.
If the PST file size is under 2GB, then users can make a trial to repair it using the manual methods to repair Outlook PST file. It is scanPST.exe application or Inbox Repair tool comes with Office suite and stored at the location C:\Program Files\Microsoft Office\Office16 – for Outlook 2016 version as the topic is related to this version.

So, reach this location and double-click scanPST.exe application to open it. Now add the affected PST file using the Browse option and click on Start option letting the application scan the entire file for folders and items.

Once the scanning process is completed, the information is displayed about the error and number of files and folders. Select the checkbox to retail a copy of this PST file before performing the repair. Add the back PST file name or the path location. Finally, click on Repair option to start the repair process. The process will progress and gets complete in a while.

However, it can show any – success message, error message after the repair is completed or terminate in between the process. It all depends on the level of corruption in PST file the user is dealing with. If it is of low level, then the repair can be expected. Although there are chances of data loss or incomplete repair of the file.

To repair Outlook 2GB oversized PST file issue, the best deal to offer to fix error 0x80004001 permanently and securely is the third-party tool selection. Manual way to repair is not capable to deliver sure-shot repair and also lacks with file-size restrictions as it repairs files up to 2GB only. Contrary to that, the professional Outlook PST Repair tool is all handy, easy to use and perfectly repair all the Outlook errors including this one in very less time. It has many advantages like no file size restrictions, complete recovery, specific data recovery, supports all Outlook versions including Outlook 2016, Outlook 2019, etc.
You can try it anytime with free version and it is pretty sure that Outlook PST file will now get successfully added in Outlook 2016 without any error issue.
Words for Final
Outlook users have daily basis errors to resolve out of which one could be while adding the PST file to it. Outlook file corruption, network storage, virus effect, software interference, etc. issues lead to this Error 0x80004001 which can be resolved by manual or professional way, which one works for user.