Outlook application runs its database file known as PST file which includes single or multiple mailboxes and further folders in these mailboxes. These PST mailbox folders are meant for storing different sort of emails such as received (Inbox folder), sent (Sent folder), in queue (Outbox folder), as storage (Drafts folder), as spam (Spam folder), junk (Junk folder), deleted ones (Deleted folder, etc. The user working on the Outlook application requires accessing these folders from time to time for getting information and details and communicating it with others.
But there is a situation which makes the user annoyed when he tries to access a specific Outlook folder and the application gets "crash or freeze" out of nowhere. Now, this is happening only with a certain Outlook folder. This is an unexpected condition for the Outlook user. This article is especially drafted for making users access the Outlook application again by providing effective solutions to fix Outlook crashes when selecting specific folder situation.
Try All These Fixes for Outlook Crashes When Selecting Specific Folder
Outlook users can move on to the following fixes one after another if the issue is not resolved by the previous one.
Fix 1 – Disable Running Anti-Virus and Firewall Scanner
Third-party services like Anti-virus scanners, Anti-malware or Firewall may affect the Outlook application running. Try to either disable or uninstall these services from your system. It can help you primarily to fix Outlook Crashes When Selecting Specific Folder. Further you can move on to the next explained fixes.
Fix 2 – Run Outlook Application in Safe Mode
It is obvious that you cannot access the Outlook application normally as you do know because of the crash down. So, an alternative would be running the Outlook application in safe mode. To do this, press Windows and R keys on your keyboard together to open the Windows run box.
Type outlook.exe /safe within the Run box and click on OK. Or you can simply type outlook.exe /safe in the Windows search box at the start screen.

If your Outlook application gets opened, select and try to access the same folder again and check if the issue happens again or not. If all is well, then problem can be different. Let us find out it in further solutions.
Fix 3 – Reset Outlook Folder View Settings
It is unfortunate that the issue related to Outlook getting freeze is not resolved from the above fixes. Do not worry! We have more fixes for you. In this fix, we are proposing users to reset view of all the folders of the Outlook by running a command line utility.
Open the Windows Run box in your system (press Windows+R keys together). Type outlook.exe/cleanviews and click on OK.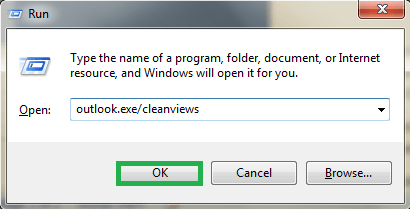 It would reset the view settings for folders within the Outlook application. Now, users can try to access that specific folder in the application.
Fix 4 – Repair Microsoft Program
For getting surety over all manual procedures tried, users should perform repair on the installed Microsoft Office program of which the Outlook application is a part.
Go to the Control Panel on your system. Click on Programs and Features option. Next, select the Microsoft Office program under Uninstall the Program section and right-click on it. Click on the Change option. On the next page, select Quick Repair option and click on Repair option. The repair will begin and after sometime it will represent the error and its detail if there is any issue in Microsoft Office program.
Final Fix
Damaged Outlook PST file needs a repair now as none of the above fixes worked for you. This is the final solution for the users. Although there is a manual utility Inbox Repair Tool available for repairing Outlook database file but it is not recommended from us as the repair over highly corrupted PST files is not attained and there is size restriction also with this in-built repair utility. Moreover, there are chances of loss of data and original properties are included with the manual repair solution.
One should try the professional repair tool for repairing the damaged or corrupted Outlook PST files. The Outlook PST Repair solution is the best solution to deal with all types of PSTs, multiple in together and turning it into the healthy file in no time. It repairs multiple files in one go and allows users to save it flexibly using the advanced filter options. The file size, type and Outlook version is no bound for this advanced solution. Users can rely on this tool to fix other Outlook errors as well. To get ensured about the tool's capacity, move to the website link and catch all the features as well as download the trial version for practice and knowledge.
Conclusion
Outlook crashing away in the middle of selecting any folder is a great cause of concern. The article has included all the manual tricks to fix up this Outlook error "Outlook Crashes When Selecting Specific Folder" issue allowing users to access the Outlook folders freely. The manual ways can be performed by anyone though requires sincerity and one automated repair solution for repairing damaged Outlook PST file is also discussed with all.