A PST file holds complete Outlook emails, contacts, tasks, etc. which could be confidential for the organization and need not to be shared with all. Also, PST files are portable in nature and it is easy for anyone to steal it from the system to use it in his system directly. This situation is worrying only if the PST password file is not protected. If it is protected with a password, then it is secured anytime. Outlook PST files can be protected by assigning the security passwords using its Account Settings feature. The main objective behind this encryption is protecting the crucial PST file data from unauthorized users or intruders.

We have just talked about the PST protection via password but in some scenario, a user needs to change this password as he may want it to be more secured with complex characters or make it a less complex one to remember it easily. Outlook provides its users to change the current PST password through Settings option in Account Settings section. But to change the password, knowledge of old password is necessary. Users can follow Data Files>Select PST File>Settings path within Account Settings dialogue box and change PST file password with Change Password option displayed here.
Users have an alternative path to reach this Change Password location by selecting and right-clicking the PST file from the Outlook interface left panel, choosing Data File Properties option from the list. Then from the General tab, clicking on Advanced option which will lead to the same page as below.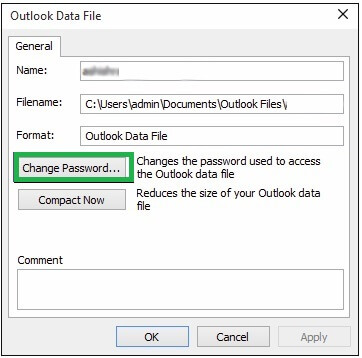 If users do not want to have any password for their PST file, then enter the old password, and leave the other two options blank (for new password and its confirmation spaces) and click on OK. Thus, here also, to remove the password from the PST file, knowledge of the old PST file password is required.
The worst situation is when a user has forgotten or lost the PST password he set earlier. This scenario calls for unlocking the password protected Outlook PST files as the PST file has become inaccessible now. Whenever the user will try to access the PST file, he has to face this message.

And if the user does not have the PST file password, he will suffer. Now, user would have to look for the methods to unlock password protected PST file. If we talk about manual or native solutions, there is hardly any method available. However, we do have one solution but it is supportive to only Outlook 2002 and older versions. We will be discussing this complete manual solution next.
Unlocking PST Password with Microsoft Utility pst19upg.exe
For Outlook versions 2002 and earlier, we have one free manual solution which is using the in-built utility pst19upg.exe which removes passwords from ANSI supported PST files and not UNICODE PST files from newer Outlook versions. In this method, (Inbox Repair Tool) scanPST.exe application is also required to run a repair process over the file at the start and then with the help of pst19upg.exe, new duplicate PST is created without any password. Let us understand this process in easy steps.
Take a backup of the locked PST file. Then find the Inbox Repair Tool on your system and run the repair process on this backup locked PST file. If any errors found, fix then using this application.
Note: The default system locations of scanPST.exe application for the different Outlook versions are:

| Version | Path |
| --- | --- |
| Outlook 97/98 | C:\Program Files\Common Files\Windows Messaging\scanpst.exe |
| Outlook 2000 | C:\Program Files\Common Files\System\MAPI\<locale ID>\NT\scanpst.exe |
| Outlook 2002/XP | C:\Program Files\Common Files\System\MAPI\<locale ID>\scanpst.exe |
| Outlook 2003 | C:\Program Files\Common Files\System\MSMAPI\<locale ID> |
| Outlook 2007 | C:\Program Files\Microsoft Office\Office12 |
| Outlook 2013 | C:\Program Files\Microsoft Office\Office15 |
| Outlook 2016/2019 & Outlook 365 | C:\Program Files\Microsoft Office\root\Office16 |

Press Windows button with 'R' and type Command Prompt in the Run dialogue box. The Command Prompt screen will get open.
Execute this command:

C:\My Documents\pst19upg.exe – <filename>.pst

Note: In place of <filename>, provide the name of the PST file.

After the execution of the above command, a duplicate .psx file will get created. You need to rename the backup file used earlier in the above command to avoid name clash.
Run this command in Command Prompt:

C:\My Documents\pst19upg.exe – <filename>.psx.

Note: Here, use the earlier created psx file name.
It results would be that a new duplicate PST file will get created at the same location but this time, it is password-free, i.e. unlocked.

Run the scanPST.exe (Inbox Repair Tool) application again to repair or fix any errors in the new Outlook PST file
Try accessing this password-free PST file in your Outlook application. It will get open directly without any password prompt.
So, we have understood the process but it seems useless if the PST file is of above Outlook 2002 version which is a very possible case. It supports only ANSI code PST file formats and not UNICODE PST files. Unfortunately, we do not have more manual solutions to unlock password protected Outlook PST files of newer Outlook versions like 2007, 2010, 2013, 2016 and 2019.
Use Professional Third-Party Tool to Unlock Password Protected PST File
We do have a savior in such complicated situation which is a reliable third-party PST Password Recovery tool. Our suggestion is the excellent and certified Outlook PST Password Recovery tool which recovers passwords for encrypted PST file in a single click. It provides multiple options as passwords which can be used to access the added PST file. It poses zero restrictions on the complexity of the password and the Outlook versions. In fact, it supports all Outlook versions ranging from 2000 to 2019, supports both ANSI and UNICODE formats. The best part is software is handy to use and is fully genuine in its function. All kinds of protected PST files can be unlocked with this user-centric advanced tool. Thus, we have got the final solution to unlock password protected PST file of MS Outlook!
Final Words
We have discussed the manual solution to unlock password protected PST files using the in-built Microsoft utility pst19upg.exe for creating a duplicated password free PST file but it is limited to 2002 and earlier Outlook versions only. The best solution – the professional third-party tool is suggested for the users to unlock protected PST files automatically.