This article is intended to provide effective solutions to one of the common Outlook errors faced by the users. It will make you familiar with the common methods to deal with the popular Outlook error. Whenever you open your Outlook application, the first thing you do is access your emails. But while doing so, have you come across an error message interrupting your Outlook emails' access like this –
'Sending and receiving reported error "0x80004005": The operation failed.'
Or
'This message could not be sent. Try sending the message again or contact your network administrator. The client operation failed. Error is [OX80004005- 0X0004B9-OXOO501].'
This Outlook error is more commonly known as Outlook Send/Receive error – 0x80004005. It generally occurs when you are trying to send or receive the emails. It is a typical Outlook error that frustrates many users working in a tight schedule. This error hampers the functioning of Outlook and stuck the user's work in the middle of nowhere. Before considering or selecting any solution, the user should have the knowledge about the reason for such error. Also, it is wise and important to know the real cause about the problem prior to solve it.
Reason for the error – "0x80004005"
The actual reason behind the occurrence of such disturbing error is that the script blocking feature "Enable script blocking" is ON in Norton Antivirus. This setting in Norton Antivirus application can be responsible for this error. Apart from this reason, the other reasons could be interruptions due to Spyware, Virus infections or Registry issues (Corrupt or missing registry keys).
Now, the possible reasons are mentioned and it is the time to look at some common methods which a user can perform to eliminate this error himself.
#Solution 1: Disable New Mail notification in Outlook application
This method will help you eliminate the error hindrance while receiving the emails only (for sending the emails, try other method). To start with, open your Outlook application and perform the following steps:
From the File menu, select the Options icon in the list.

Now, a dialogue box named Outlook options will get open. Click on the Mail option on the rightmost list.

In the Message arrival filter options, you just need to unselect the Display a Desktop Alert option. By doing this, the notifications for New Mail on your desktop will get stopped. You will no longer receive incoming mails notifications and it will help you receiving emails directly in your mailbox.
#Solution 2: Uncheck 'Enable Script Blocking' Feature in Norton Antivirus Software
If you are protecting your system with Norton Antivirus, then it is a most possible reason for this Outlook Send/Receive error. You have to disable the script blocking feature in the Norton Antivirus application.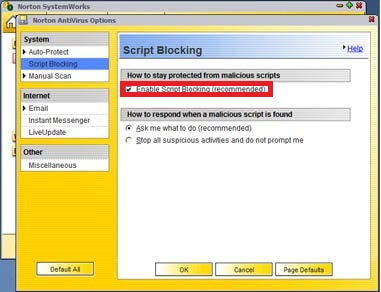 The highlighted option for the Script Blocking in Norton AntiVirus Options dialogue box needs to be unchecked to help the user access emails in the Outlook. It could save user from the Send/Receive error.
#Solution 3: Scan your system for Virus infections
Your system applications starts working slow or sometimes may not work at all when a bug or virus has affected it. You need to be sure that your system is always virus free. Applications like Outlook are also vulnerable to virus attacks. This Send/Receive error could be an outcome of the virus infections. You can overcome the issue by scanning your system with good, updated Antivirus software. This may clean our system removing any virus present and helps in improving applications performance.
#Solution 4: Clean the Registry
One more alternative for the eradication of the Outlook error is to clean the registry and removing corrupt registry keys. Such bad and invalid registry keys cause interruptions in the operation with the system applications. Using a registry cleaning utility, you can remove bad entries in the registry keys.
But what if all these manual methods do not work or fails to solve the problem. These methods are easy to perform but not fully effective. Each method has some or other limitations. It is a possible attribute that your system has no Antivirus software or if you are disabling any present Antivirus software, there is a threat to your system security. Also, you may not find any virus in your system or fail to scan it with your software installed. The bad Registry issues are not always prevalent. Such problems are to be looked at very cautiously and without wasting any time, the user should find out an efficient and trustworthy third-party tool for this Outlook error. Here, your search is fulfilled with the PST repair tool which repairs all type of corruptions in Outlook and resolve almost all errors related to it. It serves its users with both repair and migration solutions. Now, try it to trust it!