On getting multiple queries to find a proper solution to fix Outlook error 0x800ccc92 during the Outlook errors research, we came to a point to write a blog with complete solutions on a single platform to help out all the Outlook users who faced or facing the same error.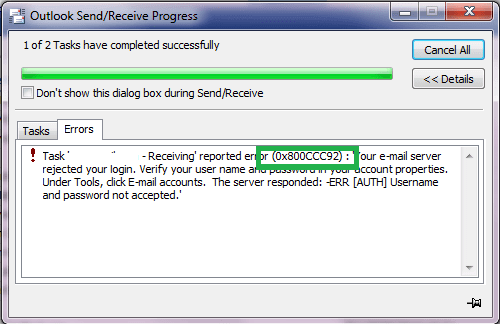 When and why does Outlook Error 0x800ccc92 occur?
The fix Outlook error 0x800ccc92 occurs when users hit on Send/Receive option from the Outlook interface to update the sent or received emails in the Outlook mailbox. The error stops the mail flow and throws an error message dialogue box indicating the error code. This error is also known as "Outlook Send/Receive error". This Outlook error is the frequent one and being faced by many Outlook users from day to day keeping them away from emails updating and in more severe cases, results in data loss too. Some common symptoms are performance slowdown, freezing of Outlook application, or Outlook crash while using Send/Receive feature.
Within the error message, a suggestion is provided to users to check the user name and password in the account properties under Tools>E-mail accounts section. However this is not just the reason why this error has occurred. We are providing some other possible reasons for this "Outlook Send/Receive error".
Error description-
You may get the error message like as "Receiving reported error (0x800ccc92) "Your email server rejected your login. Verify your user name and password for this account in Account Settings. The server responded: ERR (AUTH) Incorrect username or password" that clearly indicates that the issue occurs due to an incorrect username and the password. Thus, Outlook repeatedly prompts you to enter a password when you try to send/receive emails. There are some causes as discussed below.
Causes for Outlook Error 0x800ccc92
Invalid account username and password credentials; No network connection; Firewall and other application blocking the current connection; Oversized PST mailbox; incorrect browser settings; synchronization issue between Outlook application and server; failure of POP3 & SMTP protocols from the server; corrupt Outlook data file; abrupt shutdown; virus intrusions.
Fixing this Outlook error is not a tough job but the solutions need to be performed carefully to get success in first time.
Symptoms of Outlook Error 0x800ccc92 Issue
Windows runs slowly when you give mouse or keyboard input.
Outlook error 0x800ccc92 appears and crashes the active program window.
Your system periodically freezes for a few seconds of time.
Procedures to Fix Outlook Error 0X800ccc92
Check for Network Connection: Outlook users must ensure that the internet connection is well set and the Outlook is not set to Work Offline mode. It should be the first step from the user's end.
Confirm Account Credentials: Check that the account credentials which you are using to Send/Receive option are accurate as the error may occur from the inaccurate ones. Users always need to provide the correct password for the account user name.
Disable or Uninstall Firewall, Antivirus Scanner: The third-party applications are cause of many Outlook errors including this. So, it is recommended to disable applications like Firewall, Antivirus Scanner from your system temporarily till this error gets fixed.
Check Server Settings: Outlook sets its account based on different servers such as IMAP, POP3, SMTP, etc. from which user has to choose one for completing the account set up.
In the Account Server Settings, users can look up to incoming mail server and outgoing mail server settings along with incoming mail server port and outgoing mail server port depending on the selected account server for their Outlook account. If all if well, then problem would be something else.
Incoming Mail Settings should be:

User Name: Your email address
Password: You use to log in to your webmail
Server: imap.gmail.com
Port: 993
Encryption: TLS/SSL
Secure Password Authentication (SPA): No

Outgoing Mail Settings should be:

Server: smtp.gmail.com
Port: 587
Encryption: SSL/TLS
Secure Password Authentication (SPA): No
Outgoing server authentication: Yes, same settings as of your incoming server

Reduce Outlook Mailbox Size: Oversized Outlook mailbox may proceed to this Outlook Send/Receive. That is why users should go for cleaning the mailbox by removing unused and unimportant data from the respective mailbox. Doing this manually would be a hard task so users can take help of the AutoArchive feature in the Outlook application to archive old and unimportant Outlook emails to a location on system within archive.pst file.
To archive Outlook data automatically, follow these steps.

Start your Microsoft Outlook application.
Go to File>>Options.
On the Outlook Options page, click on the Advanced option from the left panel.
Then click on AutoArchive Settings tab under AutoArchive section.
Note: On the same page, go to Outlook start and exit section and select the checkbox saying Empty Deleted Items folders when exiting Outlook to automatically clean the Deleted Items folder from your Outlook mailbox on the next exit.

On the AutoArchive page, users can set multiple options to AutoArchive the Outlook emails such as –

AutoArchive frequency (number of days)
AutoArchive options (Delete expired emails, archive or delete old items, show archive folder in folder list)
Clean out items older than (months/days duration)
Choosing saving location of AutoArchive items
Permanent deletion of old items

After the selection of options, click on OK to apply the settings.


Exit the Outlook application and restart it to know the effects.

You can use the Compact Now feature by visiting the Outlook Data File Properties to compress the size of the file and save some space.

Change PST file Password: If even after checking the account settings including basic server info, POP3 or SMTP details, the issue persists, then try resetting the Outlook Password as the possibility could be of Outlook password change.
Go to File>Info>Account Settings>Account Settings. Select the account name email address and click on Change option. Then update the password through adding old password info and adding a new password to it. Next, close the Outlook application and restart it with the new password. Check if it helps.
Repair PST File: Though the reason is not commonly responsible for the Outlook error 0x800ccc92 but users cannot ignore it if they are not able to fix the error using the above solutions. For checking that your PST file is corrupt, users can utilize the in-built Inbox Repair Tool which scans and provides information about PST related errors of size upto 2 GB.This utility is not reliable to fix all the corruptions in the Outlook PST file rather we suggest you to try a secured and reliable professional Solution.
Rather than wandering for search of such efficient solution, we would drive your attention to the best of the best – Outlook PST Repair tool which holds the capacity to repair PSTs in any condition whether highly corrupted or very large in size. It supports quick repair and full Outlook version support. Also, the tool includes certain filter option for saving specific Outlook PST data thus helping in reducing the file size automatically. It is the best tool to follow when suffering from any Outlook PST corruption issue. Get its free version online and perform a trial.
Final Words
Outlook error 0x800ccc92 (Send/Receive error) is one of the common Outlook errors but can be rid off employing certain manual techniques. As the final solution to deal with damaged or corrupted Outlook PST solutions, the blog introduced the most efficient Outlook solution towards the end.