Windows Live Mail is a free email client from Microsoft which allows users to set up their email accounts for easy communication. Since 2016, Microsoft discontinued it, no support from Microsoft available for this. Sone move to Windows Live Mail alternatives and some users still using Windows Live Mail, constantly face the error code 0x800ccc79 that removed email came back to the inbox. Many problems arise with Window Live Mail like lost mail, unstable communication, metadata manipulation of email, and so on. Here, we are going to discuss reasons, and solutions to fix this Windows Live Mail error 0x800CCC79.
What is Windows Live Mail Error 0x800CCC79?
When a user tries to send message, then instead of the message being sent, there is an error message appears like –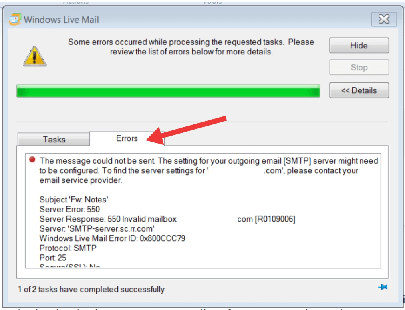 The message could not be sent because one of the recipients was rejected by the server. The rejected e-mail address was 'recipient@mail.com'. Subject '****', Account: 'servername.com', Server: 'servername.com', Protocol: SMTP, Server Response: '550 relay not permitted', Port: 465, Secure (SSL): Yes, Server Error: 550, Error Number: 0x800CCC79
This error code 0x800CCC79 occurs when the user tries to launch Windows Live Mail. The error message appears on the corner of the screen for a short time and disappears automatically. It is mostly seen when the outgoing (SMTP) server refuses to relay an email without authentication.
Reasons behind Error 0x800CCC79
There are reasons for the error code 0x800ccc79 occurrence when user using the Windows Live Mail as follows –
When the wrong password or username is entered.
Due to connecting problem in POP3 and SMTP protocol to the database server.
When you have created the wrong Outlook configuration.
Improper integration between the server.
Virus attacks can cause this error.
Symptoms of error 0x800ccc79
Windows runs slowly and responds rapidly to input from the mouse or keyboard.
Computer freezes regularly for a few seconds.
Error 0x800ccc79 pops up and then active window crashes.
Windows Live mail Error 0x800ccc79 pops up on the screen.
Solutions to Fix Error 0x800CCC79
Follow the below steps to fix error 0x800ccc79 and resolve the issue –
Method #1 – Using SMTP setting
When the server is not allowing the recipient to send message due to server settings issue, called SMTP error. Here, SMTP authentication should be disabled. To fix this error, please follow below steps-
At first, open the Windows Live Mail.
Now right click on account and then select the Properties option.

After that, move to Servers tab and go to Outgoing server option.
Now select the checkbox saying My outgoing server requires authentication and click on OK button.

At last, close and re-launch the application.
After completing the method, try to send a sample email and check whether the error comes again or not.
Method #2 – Using WORK OFFLINE Mode
Sometime error message appears at logging on to application. It occurs when a mail stuck in Outbox folder. To fix it please follow the given instructions –
At first, open the Windows Live Mail and then sign in.
Now, after the error message disappears. Go to the File menu, after that click on Work Offline at the top right corner of screen.

After putting the application in the offline mode, visit to the mailbox Outbox folder, select the email messages, do right click on these email messages and select Delete option to remove it.

Now, further go to the File menu, after that click on Work Offline to deactivate the offline mode.
At last, close the application and restart your device.
After completing the method, try to send a email and check whether the error comes again or not. These are the free solutions to fix error 0x800ccc79. If you want to switch your email account from Windows Live Mail to Outlook, then follow the below information.
Want to switch Windows Live Mail to Outlook?
Windows Live Mail is an old email client but users are still using it and face many problems. Switching from Windows Live Mail to Outlook as it is a better alternative.
There is a lot of ways for exporting emails to Outlook from Windows Live Mail but the best option is to use a professional EML to PST Converter tool, so that you can move your email to Outlook PST file format from EML files. Follow the given steps –
Install the downloaded software and open it.
Now, Browse the EML file(s) of Windows Live Mail into downloaded tool.
After that, use the Preview Complete Data with Attributes.
Now, Export Windows Live Mail to PST file format.
At last, Import these PST files into Microsoft Outlook.
Conclusion
Maximum users encountered the error code 0x800ccc79 in Windows Live Mail. In this blog, we have discussed the possible reasons behind the error and the best possible solutions to fix this error. In case, users want to switch from Window Live Mail to Outlook with any reason, we have recommended the most secure and reliable Best EML to PST Converter software.