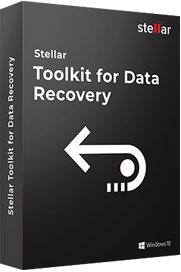 Stellar Data Recovery Toolkit
Rejuvenate the lost data from Mac, Windows and Linux OS with Data Recovery Toolkit
Data Recovery Toolkit systematically recovers the lost data using the comprehensive set of sophisticated software from the corrupt operating systems and storage devices. The tool unveils missing, deleted and scrapped files from system partitions, formatted drives and corrupt systems without data alteration.
Supports NTFS, HFS, HFS+, Ext2, Ext3, and Ext4 file systems.
Supports encrypted devices in data restoration.
Restores data from RAID 0, 5, and 6 servers.
Creates disk image when RAID construction fails.
Key Features
Revitalize data from RAID 0, 5, 6 Server
To speed-up the data recovery process, Stellar data recovery toolkit implements the automatic process, wherein the RAID parameters are automatically detected, identifies RAID factors, and builds the best RAI array. To make the process unperturbed, the toolkit enthusiastically supports recovery from 'NAS'-based on RAID 0, 5, 6.
Data visibility from Invisible Drives
'Can't find drive' option lets you discover the invisible drives that are hard to find. The toolkit deeply scans the entire storage drives in such cases with 'Deep Scan' option and recovers the desired data without any mutations.
Recovers custom files with add header option
With 'Add Header' option, under 'Advanced Settings' permits adding additional file types from those mentioned in the file list. The option also permits to edit an existing file type to leverage the recovery process.
'Preview' option
Post-recovery of the data and prior saving it in the predefined destination, it is important to preview the retained files to evaluate the recovered data. Data previewing helps in precise data recovery and showcases the recovered files in 'Tree-view' format.
Construct Virtual RAID
Virtual RAID parameters facilitates 'RAW Recovery' as well as 'Search Lost Volume' operation to recover the lost data from the inaccessible RAID. The virtual RAID option is exercised when RAID construct fails.
Selective File Recovery
Stellar Data Recovery Toolkit perfectly exhumes the lost data without compromising on the retention quality. Along with it, the tool also permits selective file recovery to save time y searching for the selected files.
Software Features

FULL Version
Data Recovery from lost partitions
Digtial Media Recovery from Camera and strorage devices
Recover Outlook mails automatically
Data Recovery from Raid 0, 5 & 6
Supports all Windows file system
Recover data from encrypted Mac partitions
Recover files and Media from Mac OS X
Recovers data even from highly damage partions
Supports all Mac file system
Supports recovery from Linex drive image
Recovery from Optical media
Supports all EXT2, EXT3 & EXT4 Linux file system
Lifetime License Validity
Is it necessary to have some knowledge RAID prior using the Data Recovery Toolkit?
No, the toolkit is entirely automated and it is implemented in a single go.
Can the data from old Windows be extracted using the toolkit?
Yes, data from old Windows can be perfectly extracted as the toolkit supports Windows, Linux and Mac.
How does the lost data from encrypted sources retrieved?
The lost data from the encrypted sources are retrieved by the combined efforts of comprehensive software dedicated for this functionality. The software work in combination to make perfect data retrieval.
Can we repair ex-FAT of Mac?
No, Stellar data recovery toolkit doesn't support ex-FAT format.
Supported Versions:
Operating System: Windows 10, 8.1, 8, 7, Vista, XP
System Requirements:
Processor: Pentium Class
RAM: 1 GB
Hard disk: 50 MB
Software Interface Language
English, German, Spanish, Italian & French
License Types
Technician - For 3 PC at diffrent locations
License Validity
Lifetime Software license validity (no renewal required) with all future updates
Software License Delivery
Electronic License by Email
Testimonials
" The service was excellent. Stellar Data Recovery Toolkit was worth a fortune to my company. Data Recovery Toolkit saved my business."

" It's exactly what I've been looking for. Stellar Data Recovery Toolkit is awesome! I was amazed at the quality of Data Recovery Toolkit. I love Data Recovery Toolkit."