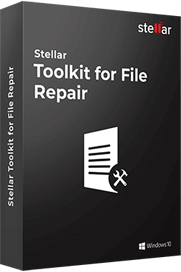 Stellar File Repair Toolkit
Fix the issues of Word, Excel and PowerPoint files with File Repair Toolkit
File Repair Toolkit comprehensively fixes all the issues related to Word, Excel and PowerPoint files irrespective of their versions as the tool incumbently supports Microsoft Office 2016, 2013, 2010, 2007, 2003, 2002, and 2000.
Restores data from the corrupt files and places them intact in the new version of the files, if required.
Restores objects along with content in PowerPoint files.
Rejuvenates the files zipped in WinZip and 7 Zip.
Compatible with Windows 10, 8.1, 8, 7, Vista, 2003, and XP.
Key Features
Simultaneous Recovery of the Multiple Files
To speed-up the data recovery process of the corrupt and affected files, Stellar File Repair toolkit simultaneously recovers multiple file types. The time required in fixing the issues depends on the issue type and affected file volume. For bulky files, more time is taken by the repair tool kit.
Compatibility and Support
To cater continuum in the file repair process, Stellar File Repair tool is effectively compatible with Windows 10, 8.1, 8, 7, Vista, 2003, and XP and supports MS Word 2013, 2010, 2007, 2003, 2002, and 2000, MS Excel 2016, 2013, 2010, 2007, 2003, and 2000, MS PowerPoint 2016, 2013, 2010, 2007 and 2003.
GUI-An Effective Score
To access all modules of the Word, Excel, PowerPoint, and Zip, the File repair tool kit makes use of the interactive Graphical –User Interface. The intuitive environment of the interface makes the user-machine interaction quite easy.
'Preview' option
Post-recovery of the data and prior saving it in the predefined destination, it is important to preview the retained files to evaluate the recovered data. Data previewing helps in precise data recovery and showcases the recovered files in 'Tree-view' format.
Reconstructs affected Zip Files
Zipped files are no exception to corruption and access failure. Stellar File Repair Tool kit cleanly fixes the affected zip files without failure. To validate the successful retrieval it is advised to check the recovered zip files.
Selective File Recovery
Stellar File Repair Tool kit perfectly exhumes the lost-cum-affected files without compromising on the retention quality. Along with it, the tool also permits selective file recovery to save time by searching for the selected files.
Software Features

FULL Version
Repairs single or multiple corrupt Word files
Have specific search & preview options
Support Raw recovery
Produce Log report
Repair damaged Excel files
User intractive GUI
Real time pre-recovery facility
Repairs all corrupt PowerPoint file
Search option facility
Supports recovery of Macro enabled PPTM files
Repair password protected ZIP files
Repair large ZIP file upto 1.5 GB
Selective file saving option
Does the tool kit perform for the files stored in online drives?
Yes, the tool authentically supports the file resurrection irrespective of the location in a single go.
Does it support .odf and word pad format, if yes, then to what extent does it support?
No, Stellar file repair tool kit does not support freeware and word pad formats. It is exclusively for the MS office packages.
How the lost data is actually retrieved?
The lost data from the affected files are retrieved by the combined efforts of comprehensive software dedicated for this functionality. The software work in combination to make perfect data retrieval.
Can we repair broken MS Office files?
Yes, one can perfectly revive the broken MS Office files with File Repair tool by simply uploading the affected file(s) and repairing it in a single click.
Supported Versions:
Operating System: Windows 10, 8.1, 8, 7, Vista, XP
MS Office: 2016, 2013, 2010, 2007, 2003, 2002, and 2000
System Requirements:
Processor: Pentium Class
RAM: 256 MB
Hard disk: 50 MB
Software Interface Language
License Types
Home - For single PC
Technician - For multiple PC at diffrent locations
License Validity
Lifetime Software license validity (no renewal required) with all future updates
Software License Delivery
Electronic License by Email
Testimonials
" I like File Repair tool kit more and more each day because it makes my life a lot easier. I'm good to go. No matter where you go, File Repair tool kit is the coolest, most happening thing around!"

" Just what I was looking for. Stellar File Repair tool kit should be nominated for service of the year."